Characteristics
Status
Occupation
Adventurer, student, vigilante
Education
High school (not yet graduated)
Origin
History
My parents never liked the idea of me following in my grandfather's footsteps. I wonder what they'd think of me being a vigilante. Of me being the Wraith!

-- Wraith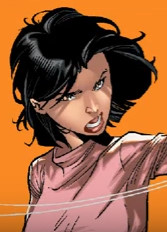 Early Life
After watching her grandfather, Kenneth Watanabe, receive the NYPD Medal of Honor, Yuri Watanabe wanted to emulate him by becoming a crime-fighter just like him. She studied all she could and despite her parents reluctance, she joined the NYPD Junior Police Academy. She befriended Johnny Storm and Mary Jane Watson in school and Carlie Cooper at the academy.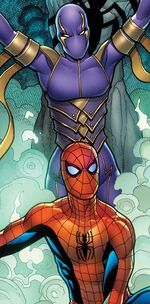 Wraith
Her grandfather was murdered during the New York gang wars, the NYPD decided that finding his killer wasn't worth perusing. Yuri learned that not some crimes wouldn't be investigated into and decided to take matters into her own hands. Stealing stolen equipment from lock-up, she became the vigilante known as the Wraith.
Yuri was present when Johnny and Mary Jane first learned they had acquired superpowers and she convinced them to become her vigilante partners. Despite initially failing, the Slingers eventually recruited the Masked Marvel, transforming him into Spider-Man.
Graveyards
To be continued...

Powers and Abilities
Powers
None known.

Abilities
Gifted Intelligence
Marksmanship
Martial Arts
Photographic Memory

Strength level
Unknown.

Weaknesses
None known.

Paraphernalia
Equipment: None known.
Transportation: None known.
Weapons: None known.

Notes
Trivia
See Also
Discover and Discuss
Links and References
---
Community content is available under
CC-BY-SA
unless otherwise noted.