Characteristics
Unusual Features
Massive techno-organic wings, occasionally appears entirely covered in stars and patterns of the cosmos.
Status
Origin
Origin
Warren rejoined the X-Men after becoming a Herald of Galactus.
History
Whatever their limits, I was given these new powers for a reason, James. To use them. And that's exactly what I intend to do.

-- Fallen

The Fallen's history is exactly the same as that of Earth-616's Warren Worthington III up until the Marvel NEW! relaunch.
When Galactus returned to Earth, he took Warren Worthington as his herald, transforming him into Starhawk. He spent much time flying around the cosmos before betraying Galactus and returning home. He rejoined the X-Men to get a handle on his powers, and to attempt to return to a sense of normalcy.

Powers and Abilities
Powers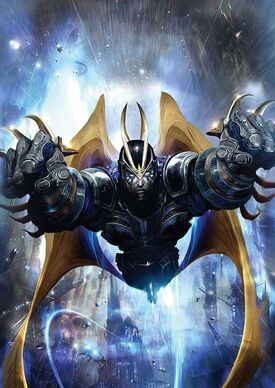 Mutant Physiology:
the Fallen has his traditional Earth-616 powers.
Techno-Organic Wings/Flight/Projectiles/Toxin Secretion
Super Strength
Super Stamina
Cosmic Power: As Galactus' Herald, the Fallen retains these powers:
Invulnerability
Resurrection
Immortality
Precognition
Energy Absorption
Space Survival
Energy Manipulation
Cosmic Tracking

Abilities
None known.

Strength level
Unknown.

Weaknesses
None known.

Paraphernalia
Equipment: None known.
Transportation: None known.
Weapons: None known.

Notes
Trivia
See Also
Discover and Discuss
Links and References
---
Community content is available under
CC-BY-SA
unless otherwise noted.