Characteristics
Unusual Features
Large metal feathery wings protruding from his shoulder-blades.
Status
Origin
Origin
Winged mutant who was healed by the
Avenger
.
History
How do we know he's not Apocalypse too? I'm out. Don't try to stop me.

-- Archangel

Angel's history is likely the same as that of his Earth-616 counterpart up until the events of the Twelve.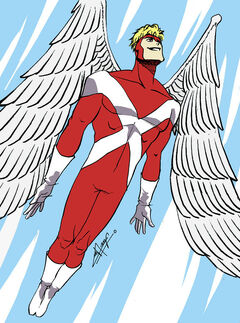 Following the body swap between
Scott Summers
and
Apocalypse
, Archangel left the X-Men. Scott healed him of Apocalypse's previous enhancements, returning him to his normal state. Though thankful, he left.
He later returned to battle Scott after he lost control.
Long after the battle was over, he was mentioned by Beast to be using his old abilities as a vigilante named Nighthawk.

Powers and Abilities
Powers
Seemingly those of his Earth-616 counterpart.
Peak Human Strength
Flight Adaptation
Metal Feathered Wings

Flight
Projectile Feathers

Abilities
None known.

Strength level
Unknown.

Weaknesses
None known.

Paraphernalia
Equipment: None known.
Transportation: None known.
Weapons: None known.

Notes
Trivia
See Also
Discover and Discuss
Links and References
---
Community content is available under
CC-BY-SA
unless otherwise noted.