Base Of Operations
Formerly abandoned explosives factory
Characteristics
Status
Origin
Origin
Reality-warping daughter of Magneto who joined the Brotherhood and later formed her own.
History
Wanda Maximoff had a trying past. Her mother gave birth to her and her brother Pietro, and died shortly afterwards. She was taken in by the Maximoff gypsies. They had a good childhood, but the development of their mutant powers complicated things. Marya taught Wanda how to hold back, meditate, and keep from altering the world or destroying it. They were forced to flee the area when Django was accused of crimes. They lived on the road for a time, and in one town, Wanda accidentally set a house on fire with her powers, and they would have been killed if not for the timely intervention of Magneto. He told them he saved them in hopes that they would help him in his mission. They agreed to join the Brotherhood.
Soon Wanda and Pietro had new costumes, and a basic idea of what they were doing. Their mission was to defeat the X-Men and take them prisoner. Scarlet Witch was easily altering reality in small ways to defeat them, but she was able to foresee Quicksilver's death at the hands of Cyclops. So she gave him a slight telekinetic bump to move him out of the way and make it seem like he'd missed it himself. But this would have even more disastrous effects. It would make contact with the explosives, killing Quicksilver, Cyclops, Jean Grey, and Mastermind. The death of her brother devastated her deeply, and she fled the scene before Magneto reformed. She vowed to create her own Brotherhood, and she was able to recruit Arachne, Xorn, Post, Mystique, and Havok. She would lead these people to many victories.

Powers and Abilities
Powers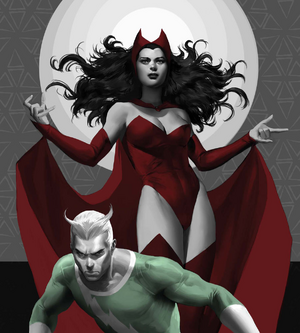 Reality Manipulation:
Wanda is able to use chaos magic in any way she wishes, to generate armies, resurrect the dead, depower others, wipe people from existence, heal others, etc.
Telekinesis: Wanda has the power to move objects with her mind.
Time Travel: Wanda can move a week into the past or present, and can see far into the past and future.

Abilities
None known.

Strength level
Unknown.

Weaknesses
None known.

Paraphernalia
Equipment: None known.
Transportation: None known.
Weapons: None known.

Notes
Trivia
See Also
Discover and Discuss
Links and References
---
Community content is available under
CC-BY-SA
unless otherwise noted.