Doctor Doom
[[File: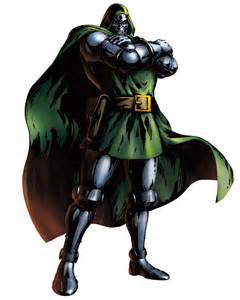 |200px|center|Victor von Doom (Earth-6109.2)]]
Relatives
Werner von Doom (father, deceased);
Cynthia von Doom (mother, deceased);
Boris (unofficially adoptive father/guardian);
Krisdtoff Vernard (ward, adopted son);
Caroline le Fay (daughter)

Dr Bob Doom (distant cousin)
Base Of Operations
Castle Doom, Doomstadt, Latveria
Characteristics
Unusual Features
Facial scars which hides behind a metal mask
Status
Occupation
World destroyer, Monarch of Latveria, scientist, would-be conqueror
Education
College studies in the sciences (expelled before degree completion); self-educated to graduate level and beyond in most sciences; self-taught knowledge of the mystic arts of magic
Origin
History
The history of Doctor Doom of Earth-6109.2 appears to have the same history as his mainstream counterpart until some years before the outbreak of the superhero Civil War. This Doom made an alliance with Loki, Ultron, Baron Mordo, the Enchantress, and at least 21 other supervillains to once again form Masters of Evil.
Doom's plan was to distract S.H.I.E.L.D. with an attack on the S.H.I.E.L.D. Helicarrier while the Masters of Evil stole the super soldier serum and Mutant Amplifier from S.H.I.E.L.D.'s Omega Base. He then kidnapped Jean Grey and Nightcrawler and stole a magical text the Tome of Asarius. Using the Tome of Asarius and the Mutant Amplifier he forced Nightcrawler to teleport himself and his fellow Masters of Evil into Mephisto's Realm where he was able to acquire a powerful magical artifact the Twilight Sword. He next used the super soldier serum to create an army of bestial super soldiers which with Loki and Enchantress' help he unleashed upon Asgard. With help from the frost giant Ymir he was able to draw Odin out into the open where he defeated him in combat using the awesome powers of the Twilight Sword. With Odin defeated he used his magic to drain the Odinforce from Odin transforming Doom into a god with nigh unlimited control over reality. Using his powers he quickly took over the world and converted most of the world's superheroes into mind controlled slaves who worshiped him as a god. He also created evil clones of the Fantastic Four, Spider-Man, Captain America, and Thor and imprisoned Odin in Castle Doom.
Eventually a team of superheroes who had escaped Doom through the intervention of Uatu were able to defeat doom and drain the Odin force from him using technology stolen from Galactus. With Doom mortal once more and Odin free of his imprisonment Odin captured Doom and Loki and imprisoned them in Asgard where they would face eternal torment and torture for their crimes against the gods. In the aftermath the people of Earth who were free of Doom's control assumed that Doom was dead, only those super-heroes involved knew the truth.
Following the Masters of Evil incident, Latveria came under the control of Lucia von Bardas.

Powers and Abilities
Powers
Mystical Blasts
Mystical Force-fields
Invoke Entities
Spell Casting
Summoning
Teleportation
Dimensional Travel
Mystical Ensnaring
Mystical Portals
Mind Transference
Hypnotism
Technological Manipulation

Technological Force-Field
Arc Lightning
Former Powers
Doom discovered with Odin's powers he gained a complete mastery of reality and was able to corrupt people to serve him and create clones of others.
Abilities
Super-Genius class Intelligence
Master Martial Artist
Indomitable Will
Highly Influential Connections
Diplomatic Immunity
Artist
Pianist
Master Swordsman

Strength level
Unknown.

Weaknesses
Paraphernalia
Equipment:
Doctor Doom's Armor

Enhanced Strength
Durability
Video Communicator
Electric Shock
Flight
Jet-Packs
Concussive Blasts
Force-field
Infrared Vision
Recycling System
Sensor Systems
Solar Energy Absorption
Splinters of the True Cross

Transportation: Various
Weapons: None known.

Notes
Trivia
See Also
Discover and Discuss
Links and References
---
Community content is available under
CC-BY-SA
unless otherwise noted.