Base Of Operations
Avalon, Asteroid M
Characteristics
Unusual Features
Pale green hair
Status
Occupation
adventurer, terrorist, student, mercenary
Origin
History
Origin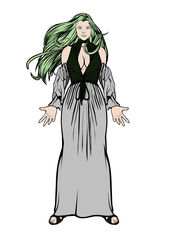 Powers and Abilities
Powers
Prior to further tutelage and experimentation under Nathaniel Essex, Vertigo knew only how to access the vocal disorientation/unconsciousness facets of her power. After training and working for Essex, Vertigo learned the greater potential of her sonic screaming abilities.
Sonic Scream: Vertigo can cause her vocal cords to vibrate over a wide range of sonic frequencies and produce a volume of sound ranging up to at least 140 decibels. Vertigo has thus the ability to shatter solid objects with a sonic scream.
Vocal Disorientation: Using her sonic scream, she possesses the superhuman power to disorient another living being's sense of balance, thereby inducing sensations of vertigo, nausea, or possibly unconsciousness. Her superhuman power functions by acting upon the organs in the inner ears of her victims that control their sense of balance. Vertigo can selectively focus her power on one or more individuals, or affect every being within range (the exact limit of which is unknown).
Vocal Unconsciousness: She has the ability to affect the fluid in someone's ear causing the person to go unconscious.
Sonic Lance: By focusing her sonic vibrations while screaming into an intense beam. This is used as a sort of "battering ram" that can stun or even destroy most solid objects.
Sonar: She can use her sonic scream as a form of sonar. By sending out a precise, pure note and listening to the returning, altered wave-front of the note, she can evaluate her surroundings in total darkness with varying degrees of resolution.
Sonic Shield: She can send out tightened sound waves in front of her, making a barrier against outside attack.
Superhuman Vocal Stamina: Her vocal cords are tremendously strong, so that she can produce sonic effects through screaming constantly for hours at a time without noticeably tiring or injuring her vocal apparatus. Vertigo's vocal cords and the interiors of her throat and mouth are also superhumanly tough, so that the intense pressures and constrictions that she produces do not cause her any injury.

Abilities
None known.

Strength level
Vertigo possesses the normal human strength of a woman of her age, height, and build who engages in moderate regular exercise.

Weaknesses
Her vocal cords are susceptible to injury from excessive strain in using her sonic powers. She has also survived major injuries to her throat at the cost of her sonic powers temporarily. Excessive vocal cord strain can also cause her to temporarily lose her powers.

Paraphernalia
Equipment: None known.
Transportation: None known.
Weapons: None known.

Notes
Trivia
See Also
Discover and Discuss
Links and References
---
Community content is available under
CC-BY-SA
unless otherwise noted.