Hey, all you guys! It's me, the super-annoying guy BIONICLEToa! Today I would like to discuss the progress of my series.
Well, school and a play has gotten in the way, so I have been focusing on that for a while. But, this week, I might finally have more of a chance to work on Emerald Man's first comic, The Immaculate Emerald Man #1.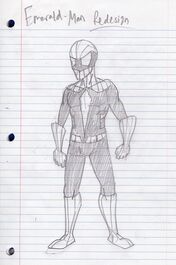 As such, I have begun to do some of the story, and will work on a story board, then move on to the actual comic. (Gonna do things "The Marvel Way.")
I also have updated Emerald Man's design, which is not too much modified, but gives him more of a modern look (which is, surprizingly, what I want). I also have re-worked some of the characters, so they fit better and are more realistic. For example:
Stephen Barmms is going to share his identity with a trusted friend who can make him gadgets and suits.
Dr. Dwarn (AKA Termite Man) is going to be married and have children.
Viruso will have more better equipment.
Caroline White will be wearing more stylish clothes (because, ya know, she's stylish and stuff).
I also have greatly improved on my drawing style, expecially with clothing, backgrounds, props, ect. This helps with the world building. Also, i'll try to make sure the dialogue isn't cheesy and more realistic. :D
The modern elements will also increase. I realized I could not make the comic 100% silver-aged inspired, so the modern will mix well with the original, with narration and visuals helping tell a better story.
Anyways, that's all for now, guys! Toodaloo!
Community content is available under
CC-BY-SA
unless otherwise noted.