MARVEL MINIMATE WEBCOMIC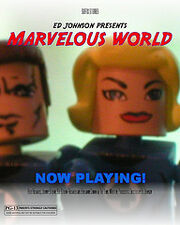 The Marvel minimates are some of the best figures created!
Not originally a big action figure collector, these lil guys have won me over.
So much so I've started a webcomic using them rather than artwork for an on going series.
Ed Johnson's FIGURATIVELY SPEAKING Presents: MARVELOUS WORLD VOL. 1
When I started this in late '07 I hadn't picked up a camera before and the early episodes show it.
I'm getting better if I do say so myself as are the story lines. I got a much better camera later in the episodes (you'll be able to tell that too.)
Here is a link to it - hope ya likes.
comments and feedback are kewl!
Thanks Ed
Entire first season on my Youtube playlist here:[[5]]
Link to FLICKR photostream [[6]]



Community content is available under
CC-BY-SA
unless otherwise noted.