I am Kon-El Elite, but you can call me Kon. I was formerly known as Artemis Thorson, but now I operate under this name as an all new person.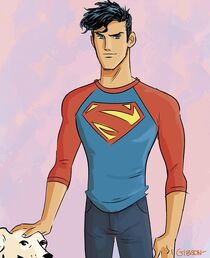 I am the creator of Earth-4216, and I am a fan of everything I've seen on this site so far. If you have any questions, don't hesitate to ask.
History
Autobiography
When I first joined the wikis under the name Artemis Panther, my friends and I founded the wiki Marvel Crossroads, later turned into Comic Crossroads, and my name was changed to Artemis Thorson. But now I run this new account, under the name Kon-El Elite, named after my favorite YJ character; Superboy. Yes, I am a fan of both Marvel and DC, although I like Marvel just a little bit better.
A little bit about the real me is that my all-time favorite band is the All-American Rejects, who really should be more popular than they are. Seriously. They're perfect.
My Favorites
Heroes
Spider-Man (my favorite hero of all time)

1 Peter Parker
2 Miles Morales
3 Miguel O'Hara

Flash
Batman
My Dream Voice Cast
Captain America: Brian Bloom
Iron Man: Mark Worden
Thor: Travis Willingham
Hulk: Fred Tatasciore
Black Widow: Laura Bailey
Hawkeye: Tim Daly
Spider-Man: Josh Keaton
Black Panther: James C Matthis III
Wolverine: Steve Blum
More to come...
Community content is available under
CC-BY-SA
unless otherwise noted.