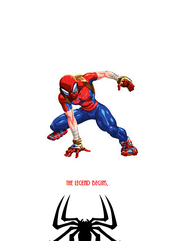 The Legend of Spider-Boy is a fan-made televisions series based off of the Spider-Man comic books series by Marvel comics. It centers mostly around Peter in his teenage years, and features various heroes and villains from the comic books.
Main Plot
Peter Parker is framed for a prank by school bully Flint Mako and has to help the janitor clean out the school basement... but in Dr. Natalie Osborn's storage box, a radioactive spider bite is going to turn this nerds life upside down... and now he has spider powers, and when more radioactive powered people arrive, except with evil plans, it turns out only Peter can stop them!
Characters
Episodes
Season 1
Season 2
Community content is available under
CC-BY-SA
unless otherwise noted.