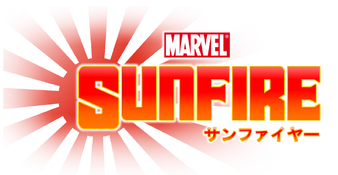 Sunfire (サンファイヤーSanfaiyā) also known as Marvel's Sunfire, is an American comic book series based on the superhero Sunfire, created by Stan Lee and Jack Kirby, and developed by CureKurogane. The comic takes place on Earth-8980, where it focuses on Shiro Yoshida, as Sunfire, fighting a criminal organization led by his uncle, Tomo, who is responsible for killing his father, Saburo and younger sister, Leyu when he was younger.
Synopsis
Shiro Yoshida, a mutant born with flame, heat, and light from the sun, witness the murders of his father, Saburo and his younger sister, Leyu under the hands of a criminal organization led by his uncle Tomo. Because of their deaths, Shiro was inspired to protect the people of Tokyo, Japan and bring his uncle to justice for taking away the two people he loved. From then on, Shiro becomes the Golden Sun of Japan -- Sunfire.
Comic
Issues
Volume 1
Characters
Main Characters
Allies
Antagonists
Trivia
TBA
Community content is available under
CC-BY-SA
unless otherwise noted.