Base Of Operations
New York City
Characteristics
6' 2"
(as Allen Manfredi), and
7' (as Silvermane cyborg)
Blue
, (as Allen Manfredi), and Grey (as Silvermane cyborg)
Silver
, (as Allen Manfredi), and None (as Silvermane cyborg)
Unusual Features
None (as Allen Manfredi), cybernetic body (as Silvermane cyborg)
Status
Occupation
Vice-President (As Allen Manfredi), Crime broker and Mastermind (As Silvermane)
Origin
History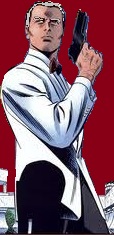 In an
alternate distant future
, Silvermane is still alive in 2099. He has been secretly controlling the most of the international crime syndicate. After
John Anthony Herod
and
President Rogers
were killed by
Doom
and America was taken back by it's people. A young man named
Allen Manfredi
ran for Vice-President and won, unknown to the world Allen Manfredi was really Silvio Manfredi a.k.a.
Silvermane
. He began
The Association
's new plans.
Powers and Abilities
Powers
Silvermane's cybernetic body provides him with a number of superhuman attributes, provided that the mechanics of his body are properly maintained and his remaining human organs are properly protected and augmented. In 2099, using nanotechnology, Silvermane augmented his motor reflexes and neural responses far beyond average human levels.
Superhuman Strength: In his cybernetic body, Silvermane possesses superhuman strength sufficient to lift up to 50 tons after his upgrade.
Superhuman Speed: Silvermane is capable of running and moving at speeds that are beyond the natural physical limits of the finest human athlete.
Superhuman Stamina: Silvermane's muscles and bones have been replaced with cybernetic hydraulics, granting him much greater physical stamina than a normal human. He can potentially exert himself at peak capacity for several hours before the wear and tear on his system begins to affect him.
Superhuman Durability: Silvermane's titanium alloy cyborg body is highly resistant to physical injury. He can withstand the force of powerful impacts, powerful energy blasts, extreme temperatures, and high calibre bullets without sustaining damage.
Flight: As Silvermane, Silvio could fly using anti-gravity units and hover using a propeller attachment and has absorbed and adapted technology for flight using his nanites and can now form a jetpack for personal use. With his jetpack, he is capable of flight speeds in an atmosphere up to Mach 25 (19,250 mph), he can achieve escape velocity from Earth's gravitational pull (25,000 mph), and can reach sub-light speed while traveling in space (176,700 mps/95% lightspeed).
Nano-Technological Self-Repair: As Silvermane, nanites in his body give him a form of self-repair similar to a Healing Factor. These nanites also allows him to adapt technology and weapons appropriate for the present situation or opponent.
Transformation: After absorbing nanites, Silvio has gain the ability to changed his appearance at will using his acquired technology. Silvio's forms include: his "Allen Manfredi" human form and his upgraded Cyborg Silvermane form.

Abilities
Silvermane is an accomplished businessman and criminal strategist. And, though these abilities have waned some over the years, he has proven himself to be an excellent marksman and a competent hand to hand combatant. Good at Politics.

Strength level
Unknown.

Weaknesses
None known.

Paraphernalia
Equipment: None known.
Transportation: None known.
Weapons: None known.

Notes
Trivia
See Also
Discover and Discuss
Links and References
---
Community content is available under
CC-BY-SA
unless otherwise noted.