This article, Samuel Wilson (Earth-61615.8), is property of MarvelousMarty.

Avengers
, formerly
S.H.I.E.L.D.
(former agent), Department of Veterans Affairs, United States Air Force (58th Rescue Squadron)
Relatives
Paul Wilson (father; deceased), Darlene Wilson (mother; estranged), Sarah Wilson (sister), Gideon Wilson (brother), Lonnie Wilson (brother; deceased)
Base Of Operations
Mobile across New York and Avengers Tower; formerly Europe, Washington D.C., Middle East
Characteristics
Status
Occupation
Adventurer, social planner, urban planner; former fugitive, U.S. Air Force Pararescue Jumper, and freelance artist
Education
College dropout & high school graduate, later extensively self-educated
Origin
First appearance
Modern Comics: The Invasion Vol 1 1
History
Early Years
A retired pararescue airman turned superhero, the bleak outlook on life of Samuel "Sam" Wilson was eventually wiped away the day he met Captain America, whom he first helped in an unspecified mission against. Using his remarkable combat prowess, military experience, and technological access to his remarkable equipment that was his winged suit and his Redwing drones, he finally became the flying Falcon of New York City.
The Chitauri Conflict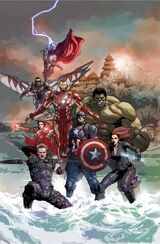 Before the Invasion, Falcon seemed to have the same history with his Earth-61615 counterpart, up until the diabolical Asgardian God of Mischief Loki was able to successfully to fool the Avengers and the rest of Earth's mightiest heroes like him, during the significant Battle of New York into fighting his mirage or illusion, while the villain continues to his to spread the chaos caused by his single-minded and bloodthirsty army coming through the wormhole created by the Tesseract. As a devastating consequence to his effective strategy, the invasion of the timeline itself was prolonged for more than a few weeks, longer than it was supposed to be.
Seeing as the situation have gotten even worse than before, the Web-Slinger and the rest of heroes within New York have no other choice but to help the citizens of every city in the country as they continue defending them from the incoming attacks. During the whole week of the massive Chitauran fleet's assault on North America, Falcon and the rest of the Avengers was one of the heroic street vigilantes who risked their very lives in helping the people of Queens and Manhattan in evacuating them into safety from the incoming arrivals of more extraterrestrial ships, throughout the wide city of New York.
Secret War on Hydra
Only a few days since the last incident of the Chitauri Conflict, Sam was eventually recruited by the legendary Captain America into officially aiding him and the rest of the team to bring down the re-emerging legacy of the Nazi organization Hydra, having their existence secretly revealed as a parasite that grew inside of S.H.I.E.L.D.'s community since the Operation Paperclip, thanks to the posthumous efforts given by Ultron, and with it, they were also tasked and were obligated to take the terrorists down and find out more truth behind its survival within only two days as they possibly could, before all of it's deepest secrets, along with S.H.I.E.L.D.'s clandestine schemes and projects, would be dragged as well, and would be also exposed to the entire world.

Powers and Abilities
Powers
Seemingly those to Samuel Wilson of Earth-61615.

Abilities
Seemingly those to Samuel Wilson of Earth-61615.

Strength level
Class 9+

Weaknesses
Seemingly those to Samuel Wilson of Earth-61615.

Paraphernalia
Equipment: Seemingly those to Samuel Wilson of Earth-61615.
Transportation: Seemingly those to Samuel Wilson of Earth-61615.
Weapons: Seemingly those to Samuel Wilson of Earth-61615.

Notes
Trivia
See Also
Discover and Discuss
Links and References
---
Community content is available under
CC-BY-SA
unless otherwise noted.