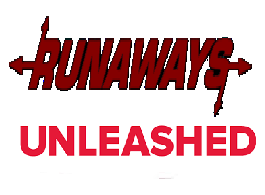 Runaways Unleashed is a comic series taking place in Earth-606 centering around the Runaways, a young team of super-powered individuals.
Volumes
Vol. 1 - On the Run
Issues: #1-4
Plot: Daimon Hellstrom, Patricia Walker, Victor Mancha, Chase Stein, and Karolina Dean are six teens with super-powers. They are closet mutants, and their parents are all close friends. One night, their parents have a gathering, and the teens are told to stay downstairs as their parents head upstairs. When Daimon sneaks upstairs to see what they're doing, he sees them practicing a demonic ritual. Daimon discovers their parents are part of the cult known as the Pride, and that the six teens are not mutants, but they got their powers through demonic magic. The teens run away from home, and take Daimon's van. They head out on the road. Two years later, they have been driving from place to place, and have pretty much been eating at fast food restaurants and sleeping in the van ever since. Daimon has a vision of a world ruled by the Pride, and realizes that their parents' cult is way bigger than he originally thought.
Introduced: Runaways (Daimon Hellstrom, Patricia Walker, Victor Mancha, Chase Stein, Karolina Dean), The Pride
Villains: The Pride
Vol. 2 - Savages
Community content is available under
CC-BY-SA
unless otherwise noted.