Relatives
unnamed paternal grandfather (possibly deceased);
unnamed maternal grandparents (deceased);
Owen (father, possibly deceased);
Priscilla (mother, deceased);
Carrie (maternal aunt);
Raven Darkholme (Mystique) (unofficial foster mother);
Irene Adler (Destiny) (unofficial foster mother, deceased);
Kurt Wagner (Nightcrawler) (unofficial foster brother);

Remy LeBeau (Gambit)
(boyfriend)
Base Of Operations
X-Mansion
Characteristics
Status
Occupation
Adventurer; former terrorist
Origin
History
Early Years
Rogue's parents, Owen and Priscilla, married early in their relationship and lived in a back-to-nature hippie commune in Caldecott County, Mississippi. Born as Anna Marie, she also enjoyed the attentions of her Aunt Carrie on her mother's side. The commune's failed attempt to use Native American mysticism to reach the Far Banks resulted in Priscilla's disappearance. Carrie took over Anna's care and, in her grief at the loss of her sister, was a strict and authoritarian guardian. Anna Marie was a rebellious child and her equally poor relationship with her father prompted her to run away from home as a young teenager.
This also prompted the nickname "Rogue".
At some point, Rogue grew close to a boy named Cody Robbins. During their flirtation, Rogue impulsively kissed Cody, at which point her latent mutant power to absorb the life energy and psyche of others with skin-to-skin contact emerged. Cody was left in a coma from which he would not awaken. Rogue was traumatized by the experience and she wore body-concealing clothing that eliminated the possibility of accidental skin contact. Rogue was not able to control her absorption power at first; any skin-to-skin contact activated it, and she sometimes retained residual memories of the people she touched. Rogue wished she did not have to cover up so much around folks, to protect them from her.
Brotherhood of Evil Mutants
Not long after, Rogue was approached by Mystique, who sought her out on the advice of her precognitive partner, Destiny. Mystique ultimately took Rogue in as a daughter. In time Mystique turned Rogue's loneliness, envy, bitterness, and despair into anger, thus recruiting her into the Brotherhood of Evil Mutants.
Rogue fought alongside the Brotherhood against many superheroes, including the X-Men, ROM, Dazzler, and the Avengers and was a devastating enemy to them all. For her first mission, Rogue encountered the super heroine, Ms. Marvel (Carol Danvers). Rogue and Ms. Marvel fought and, through prolonged contact during which Ms. Marvel fought valiantly to retain her consciousness, Rogue absorbed Ms. Marvel's alien-based powers and memories permanently. Rogue gained Ms. Marvel's incredible strength, near-invulnerability, the power of flight, and a rarely-used mild form of ESP referred to as a "seventh sense" (though this last ability has been largely forgotten).
Meeting Bobby Drake
After meeting
Bobby Drake (Iceman)
while she was infiltrated into the X-Men, she realized that she was against the Brotherhood thoughts and left it and her mother.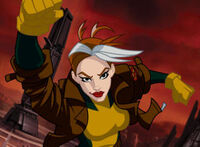 Joining the X-Men
After searching for her in Vegas, Wolverine recruited her to be a part of the X-Men.

Powers and Abilities
Powers
Rogue is a mutant:
Power Absorption: Can absorb the powers, energies, memories, knowledge, talents, personality and physical abilities (whether superhuman or not) of another human being (or members of some sentient alien races) through physical contact of her skin with the skin of the other person. She is not limited to absorbing superhuman abilities: for example, she has absorbed the strength, agility, and sharp reflexes of an enhanced human. She can also absorb psionic abilities. In absorbing another persons memories Rogue also gains the emotional responses connected to them. For the transfer of abilities to be accomplished, Rogue's skin must contact the skin of her victim. Rogue can only absorb abilities and memories from living organic beings. She can possess the powers of several superhuman persons at once. No upper limit has yet been determined for the number of superhuman beings whose power she can maintain simultaneously, or for the amount of power that she can absorb. Rogue can even absorb gross physical characteristics from a victim. Her physical appearance does not change when she absorbs abilities and memories from a normal looking human being. The victim's abilities and memories are absorbed for a time sixty times longer than the period of time Rogue was in physical contact with that person. Those touched are rendered unconscious by contact with her, though some beings, including Juggernaut and Mojo have resisted this effect. While for most of her life, her use of this power was involuntary, Rogue has recently gained full control over it.
This transfer is usually temporary, lasting for a period of time relative to how long contact is maintained, but the transfer may become permanent in certain cases. For example, she absorbed Ms. Marvel's powers permanently due to unknown reasons (Ms. Marvel's strange mix of human and Kree DNA may have had something to do with it). Most often the process happens instantly when Rogue touches someone, but in certain instances where a being has possessed an extraordinary level of power they are able to resist her, and she may only share part of their memories and power.
Her power is proved to be lethal. Mutants are proved to be stronger than humans because mutants have mutated genetics, which means that her power does less lethal effects for most mutants than humans. Her flirt, Cody Robbins, was in coma state for 3 weeks with just a brief touch. If she had touched Cody a bit longer, he had been already dead. It proves that if she touches her victim too long, she may kill her victim because of too much loss of energies due to the absorption, except if she voluntarily kills her victim with her deadly touch. Although mutants are stronger than humans, she can still voluntarily kill mutants with her deadly touch as she wishes. Although currently her power absorption power is much more controllable as she activates it by her own will because of her contact with Hope Summers, she can still make her touch lethal for her enemies but not lethal to her friends and/or allies.
As Rogue is absorbing the total psyche of a person, there is a risk of a personality overwhelming her and taking control of her body, including Spiral and Mr. Sinister who both proved to be the dominant personality. It has also been shown that even though Rogue forgets the memories she has absorbed when a psyche returns to its body, 'echoes' of their personalities remain buried in her mind.
Rogue is able to absorb psyches and abilities of several beings at once, though the experience can be confusing and disorienting for her.
Robotic beings are mostly immune to her power. Depending on the amount of organics left, she can usually affect cyborgs. She seems able to affect techno-organic beings. Powerful enough beings can withstand her touch and attempt to impose their own will on her or cause a feedback loop.

Template Recall : ability to recall any powers she had ever absorbed, in addition to the Ms. Marvel powers which always stayed "on." When she first developed this power, Rogue would sometimes randomly sprout claws, steel skin, or even optic blasts.
Due to unknown factors Rogue permanently absorbed superhuman powers from Ms. Marvel.
Superhuman Strength: Rogue, thanks to her amalgamated Mutant/Kree physiology, was able to lift around the same amount of weight that Ms. Marvel was. Thus, she was capable of lifting about 50 tons at her peak.
Superhuman Speed: Rogue was capable of running and accelerating to high speeds which a human could never achieve.
Superhuman Stamina: Rogue's musculature produced considerably less fatigue toxins during physical activity than the musculature of an ordinary human. She was able to physically exert herself at peak capacity for about 24 hours before fatigue began to impair her.
Superhuman Durability: The tissues of her body were considerably harder and more resistant to physical injury than those of an ordinary human. Rogue was capable of withstanding high caliber bullets, great impact forces, falls from great heights, exposure to temperature and pressure extremes, and powerful energy blasts without sustaining injury.
Superhuman Agility: Rogue's agility, balance, and bodily coordination are enhanced to levels that are beyond the natural physical limits of even the finest human athlete
Superhuman Reflexes: Her reflexes are heightened in a similar manner and are superior to those of the finest human athlete.
Flight: Rogue was capable of propelling herself through the air at tremendous speeds, around half the speed of sound.
Seventh Sense: Rogue was subconsciously able to anticipate the moves of her opponents, though this power was not exactly reliable and activated randomly. She once used it to predict where her teammate Nightcrawler would teleport, and from where Magus of the Technarchy would attack.
Near-Invulnerability: Rogue possessed an amalgamated mutant human/alien Kree physiology that granted her a degree of immunity to toxins and poisons, as well as a virtually indestructible body.
Telepathic Resistance: Rogue possessed a duplicate of Ms. Marvel's psyche, and her "double" consciousness made her resistant to telepathic probes from even the most powerful mind readers.
Solar Flare: Rogue's mutant powers enable her to absorb solar and other radiation to generate the process of ionized matter (usually air) through a mentally-triggered unknown biochemical process so that it is converted to plasma, the superheated state of matter. Plasma is the state in which matter making up the sun exists; hence, Rogue refers to her projecting "solar fire". Hence she can sheath her body in flame.
Flight: can use her powers to create super-heated air currents which push her forward through the air. The speed Rogue can achieve in flight is not yet known.
Plasma Blasts: ability to project the flames she generates as powerful blasts of energy.
Heat Signature Sense: ability to sense beings by the heat signature that they give off.
Plasma Shield: ability to manipulate the plasma around her to form an aura that can melt incoming bullets or stave off other attacks.
Solar Shielding Psi-field: She is protected from the radiation she emits by a short-range psionic force field which automatically comes into being whenever air friction, and also prevents excessive amounts of light from the plasma from reaching her eyes so as to blind or damage them. Rogue's body emits a protective field whenever she uses her powers. However, it is speculated that she can generate power in excess of her natural protection.
As Famine
Organic Disintegration: Famine can disintegrate organic matter by being in direct physical contact with her victim.
Emaciation: Famine can induce extreme hunger pains in humans and animals through a single touch. She can also cause an emaciated state through physical contact.

Abilities
Rogue has displayed acrobatic skills. Rogue can also speak fluent French, and while on an alien world, proved to be an excellent swordsman, having been taught by her brother Nightcrawler. Rogue's skills also depend on who she has recently absorbed. Rogue could formerly draw upon the combat and espionage training of Carol Danvers by granting control of her body to her alternate personality, a duplicate of Danvers'.

Strength level
She can lift 50 tons due to the Ms. Marvel powers and presumably over 100 tons.

Weaknesses
None known.

Paraphernalia
Equipment: None known.
Transportation: None known.
Weapons: Rogue normally does not carry weapons. However, she will use a weapon if she has absorbed the skill to use it.

Notes
Trivia
See Also
Discover and Discuss
Links and References
---
Community content is available under
CC-BY-SA
unless otherwise noted.