Base Of Operations
The X Mansion
Characteristics
Unusual Features
Both hands are permanently covered in ice.
Status
Education
High School Education,Student
Origin
History
Origin
As a child it was clear that Robert Drake was a mutant. His hands were covered in what seemed to be indestructible ice. Not wanting to be attacked by anti mutant groups his parents hid him from the outside world. When he was 15 his parents sent him to school always to wear gloves. But one day his gloves fell off, activating his powers. Professor Xavier found him using Cerebro and sent Cyclops to go get him. He didn't go peacefully because he thought that they would do experiments on him, but professor X assured him that they wanted to help him.
First Class
Soon after he became an X-Man Professor X had already retrieved more mutants for his X-Men. One of them was
X-Man
who Robert found strange. Though he eventually got used to him and the two became friends.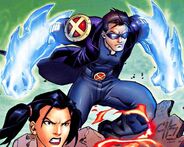 As the X-Men grew so did their enemies. Their biggest enemy was Magneto and the Brotherhood of Evil. But even though they were evil he was attracted to Lorna Dane or Polaris. He convinced her to join the X-Men she did not stay for long because she went to another team called the X-Force. He wanted to leave the X-Men for this team, but he knew that his place was an X-Man.
New X-Men
Soon more mutants were found leading to new X-Men. One of these X-Men was his cousin Katherine Pryde. She had ran away from home in fear of being attacked.

Powers and Abilities
Powers
Thermokinesis:Iceman is a mutant with the superhuman ability to lower his external and internal body temperature, projecting intense coldness from his body. Like any normal human being's, the nerve centers for regulating the Iceman's body temperature are found in the part of the brain called the hypothalamus. However, the Iceman can mentally override his hypothalamus to allow his body temperature to be lowered by an unknown internal mechanism. This ability converts the latent thermal energies in and around his body into an unknown form of energy that is efficiently dissipated. A related mutation has rendered his body tissues unaffected by sub-zero temperatures. The Iceman can consciously, immediately lower his body temperature from its normal 98.6 Fahrenheit to absolute zero (The point where all molecular motion stops.) and lower within the span of a few tenths of a second. Iceman has shown that his power to generate cold is so great, that he was able to stop a fusion core explosion which in layman's terms is a massive nuclear explosion
Thermal Vision:The ability to see beings due to the heat signature that others give off, because of the absence of heat around him.
Cryokinesis:The Iceman can use his mutant ability to control moisture such as to freeze any air moisture into super-hard ice. This ice can be formed into any object of his choosing: the only limitations are his own imagination, and the ambient air temperature which determines how long his ice sculpture will stay icy. He does not have to hold the ice physically with his hands in order to shape it. Apparently he can simply direct the waves of coldness he projects in certain ways so as to create ice in the shape he desires. In the past, the Iceman has formed ice-ladders, ice-slides, ice-shields, ice-bats and other constructs of ice. Iceman has created constructs of Ice so powerful that he was able to easily encase and contain the likes of the Hulk with him being unable to break out of it. On at least one occasion, he has even been shown to make it snow or cause a blizzard.

Abilities
Bobby is a Certified Practicing Accountant, a skilled Ice skater, and can speak Spanish fluently.

Strength level
While in human form Iceman possesses the normal human strength of a man of his age, height, and build who engages in moderate regular exercise. While in his ice form he is able to augment his strength
Weaknesses
Like that of any trained athlete, the Iceman's ability to perform is directly related to his daily physical health and current mental state. Under normal conditions, he can usually form ice continually for a period of about 5 hours before becoming mentally exhausted. He seems to lack the creativity and imagination to use his powers to their full potential, though fear of losing control over them may be a factor in his reluctance

Paraphernalia
Equipment: None known.
Transportation: None known.
Weapons: None known.

Notes
Trivia
See Also
Discover and Discuss
Links and References
---
Community content is available under
CC-BY-SA
unless otherwise noted.