This article, Rihanna Williams (Earth-7090), is property of CureKurogane.

Relatives
Rondelle Williams (mother)
Demetrius Williams (father; deceased)
Sharon Williams (paternal aunt)
Lonnie Anderson (ex-boyfriend)
T'Chesa
(Wild Child; fiancé)
Base Of Operations
Forest Hills, New York (currently) Brooklyn, New York (formerly)
Editorial Name
The Invincible Ironheart
Characteristics
Status
Occupation
Student at Brooklyn Visions (formerly)
Student at ESU (currently)
Stark Enterprises intern (currently)
Education
Brooklyn Visions High School (graduated)
Empire State University (currently)
Origin
Origin
A gifted inventress, Riri had always dreamed of working at Stark Industries under the mentorship of her idol,
Tony Stark
. After becoming inspired by
Miles Morales'
heroism, Riri began to take the same route by creating her first Ironheart suit.
Backstory
Early Life
Rihanna Robyn "Riri" Williams was born to Demetrius and Rondelle Williams in Brooklyn, New York. After the death of her father, her genius-level intellect began to develop at an early age and it caught the attention of her mother. Like, Tony Stark, Riri began to take interest in electronics, building different kinds of gadgets from anything she can lay her hands on. Rondelle sent Riri to a special school where gifted children were allowed to branch out their craft. Due to her second passion for design, both for architect and fashion, Riri began to create blueprints that would give Stark a run for his money.
Her intelligence would have her enrolled in Brooklyn Visions High School by her mother who saw her becoming a famous inventor and industrialist. During her first year, she met her best friends Miles Morales and Ganke Lee, starting their long-lasting friendship.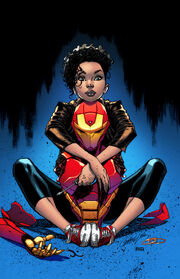 Rise of the Onyx Spider
Riri was one of the only people to know about Miles' spider powers and she was the person to encourage him to become a hero like Spider-Man, but Miles rejected to the idea. However, she along with Garrick and Miles' family meet up with him when his father was shot by some gang members, only to die moments later and Riri decided to help Miles seek justice. After looking at the pictures of Spider-Man, his suit mainly and its functions, Riri not only created a pair of web-shooters but designed a red and black suit for Miles while helping him train to become the Onyx Spider to take on the gang members.
The Birth of Ironheart
TBA
Meeting Tony Stark and the Avengers
TBA
Personality
TBA
Relationships
TBA

Powers & Abilities
Powers
Ironheart Armor Suit:
Repulser Rays:
Heat Lasers:
Super Strength:
Super Speed:
Enhanced Durability:
Force Field Generation:
Energy Blade Projection:
Flight:

Abilities
Strength level
Unknown.

Weaknesses
None known.

Arsenal
Equipment: Ironheart Armor:
Transportation: Rocket Boots (Ironheart Armor)
Weapons:
Repulser Rays
Heat Rays'
Energy Blade

Side Notes
Riri is named after Barbadian singer, Rihanna in which it's her middle name and Robyn is her first name.
Her name however is prounced as Ree-AH-Na.
Riri is also named after the late comedian, Robin Williams who passed away in 2014.
In the 616 universe, Riri has a sister named Sharon. But in this universe Sharon is her aunt on her late father's side of the family.

Trivia
See Also
Discover and Discuss
Links and References
---
Community content is available under
CC-BY-SA
unless otherwise noted.