Base Of Operations
Mobile
Characteristics
Status
Occupation
Terrorist, assassin
Origin
Origin
Shape-shifting assassin who joined the Brotherhood to eradicate humanity.
History
Darling, it's common knowledge among mutants that humans are weak. I kill about a hundred a week on a bad week. But you have heart, so I'll help you along. You need the experience that I can provide.

-- Mystique

Very little is known for sure of the woman who calls herself Raven Darkholme. It is unknown how old she is, as she can use her powers to defy aging. It is known, however, that her powers manifested at an early age. She spent most of her life moving around, fighting for survival on the streets. When she ventured to Canada, she found a boy with spikes protruding from his hands. The boy saw Raven and asked her for help. He introduced himself as James Howlett, and Raven tried to comfort him. Soon enough, his claws disappeared, and he asked her to stay with him. She agreed, and soon the two became more than friends. But when Mystique started to enjoy killing animals that they had to eat, James left her for good, alone in the Canadian wilderness.
Soon, when Raven was attacked by a mugger, she grabbed a small firearm and shot him to death. This made her realize that she loved killing people as well. She then decided to become an assassin. She traveled the country, buying various guns and weapons, all under different aliases. Then she created a new male form called Deadpool. She used this form to earn lots of money, kill people (more than her contracts allow), and annoy Wolverine for how he ended things. She was successful in all 3, and soon became rich enough to never have to live in the streets again.
Soon, word of Deadpool got around, and Scarlet Witch came to recruit him to her Brotherhood. When she got there and found Mystique, she attacked her, but she was able to subdue Mystique. Then she asked where Deadpool was, and Raven answered, "Right here," shifting into her Deadpool form. She was then asked to join the Brotherhood, and she agreed, trying to develop her identity as Mystique. Sometimes she appeared as Deadpool, sometimes Mystique.

Powers and Abilities
Powers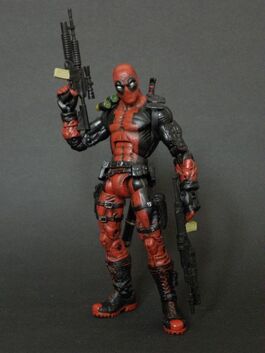 Shape-Shifting:
Mystique has total control over her body's cells, allowing her to change their formation to appear like anyone else, right down to the fingerprints, voice, and eyes. She can also shift her body to match her environment.
Healing Factor: Mystique has an incredible healing factor that allows her to heal from injuries such as bullet wounds in seconds. This also slows all signs of aging on her body.
Teleportation: Mystique can teleport in excess of 10 miles.

Abilities
Combatant: Mystique is a master of armed and unarmed combat.
Weapons Master: Mystique has handled guns and bladed weapons, and is a master of using them.

Strength level
Unknown.

Weaknesses
None known.

Paraphernalia
Equipment: None known.
Transportation: None known.
Weapons: Mystique frequently carries pistols and katanas on her at all times.

Notes
Trivia
See Also
Discover and Discuss
Links and References
---
Community content is available under
CC-BY-SA
unless otherwise noted.