Base Of Operations
Xavier Institute for Gifted Youngsters
Characteristics
Unusual Features
Blue Skin
Status
Origin
History
Raven was born over 400 years ago in Germany, but when she was born she was left at a witch's house, with a note that said "if you take this baby, we hope you will not harm us". The witch turned out to be a pre-cog named Irene Adler, aka Destiny, a mutant. After Mystique was raised by Destiny, she was recruited by Nicholas Fury to join SHIELD.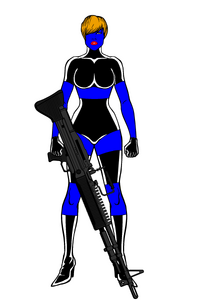 After many missions and training, she became the very first X-Man, and was leader until she gradually gave this to Storm, and she became part of the Gold Group of X-Men, lead by Storm, while the Blue was lead by Wolverine, who she is currently dating.
Powers and Abilities
Powers
Shape-shifting, advanced longevity

Abilities
None known.

Strength level
Unknown.

Weaknesses
None known.

Paraphernalia
Equipment: None known.
Transportation: None known.
Weapons: None known.

Notes
Trivia
Though she has dark orange hair, she has lighter streaks.
See Also
Discover and Discuss
Links and References
---
Community content is available under
CC-BY-SA
unless otherwise noted.