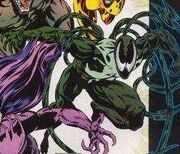 Taylor Treize was a professional skateboarder who toured the world for skating tourneys. During a Tourney, Treize fell off his board and onto some mossy rocks. hiding in the moss was a symbiote who attached to him. Treize found that it gave him the ability to stick to walls like
Spider Man
. Although he cannot cast webs, he can run at extremely high speeds and jump incredibly long distances. when the symbiote Invasion began, Taylor chose to remain neutral. However, the final image of him shows him looking up and saying "Taylor Treize is gone... There is only.....RAVAGE!!!!!!!"
Community content is available under
CC-BY-SA
unless otherwise noted.