Base Of Operations
Xavier School For Higher Learning, Westchester
Characteristics
Status
Education
Student at Xavier School For Higher Learning
Origin
First appearance
Astonishing X-Men #1
History
Infancy
Pietro and his twin sister Wanda was born to mutants; Erik Luu and Magda Maximoff. After Magda discovered Erik had been causing havoc outside of the Savage Lands, she decided to take the twins and flee the Savage Lands, but Erik knew of this and attempted to stop her but Magda used her Mutant ability to escape although, with only one of the twins; Pietro.
Magda fled to the United States and began raising Pietro in a small home in Virginia.
Early Life and enrolling at Xavier's School
Pietro led a relatively normal life and Magda raised him to the best of her abilities although he grew up never knowing about his father or twin sister.
When Pietro entered puberty, his mutant powers manifested. Magda realized now that Pietro's an official mutant he would not be safe with Magneto around, she then called up her old friend Charles from her times in the Savage Lands and called in a favor asking if Pietro could enroll into his school to which Xavier agreed to.
The next week, Pietro packed his bags and literally ran to Westchester in the span of a few minutes. Xavier welcomed him with open arms and he began his first day at Xavier's School For Higher Learning. Pietro would later go on to become best friends with fellow student Bobby Drake.
The X-Men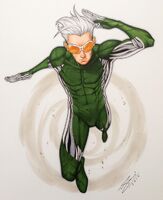 In 2014, after the Mole Man Invasion and Attack of Ultron and the growing threat of Magneto's terrorist attacks, Xavier would form a team of his top students and send them into the field to protect humanity and stop Magneto.
Discovering his heritage
On a seemingly quiet day at the X-Mansion. The X-Men and other Mutants were enjoying a peaceful day and were involved in bonding activities, like playing baseball and hosting a barbeque. That night, Wolverine would suffer a nightmare that would trigger a memory of the Weapon X project, Logan would go to confide Professor Xavier about this and would ask for help in recovering his memories. Xavier reached inside what was left of Logan's shattered memories, Xavier learned of the Weapon X project located deep in the mountains of Alps.
Xavier ordered the X-Men to accompany Logan on his journey in the X-Jet. Upon arriving at the abandoned Weapon X facility and entering its interior, Iceman would comment that this description seems familiar to a conspiracy theory on a S.H.I.E.L.D. base, Cyclops would then go on to comment if S.H.I.E.L.D. did this to him. Wolverine would then suffer a flashback of Vibranium being laced to his bones and notices a Hydra symbol on one of the scientists. Wolverine then confirms Hydra may have had something to do with this as well.
Suddenly Wolverine would smell others in the facility, with Jean Grey confirming that she can hear the chatter of other minds. Wolverine then comments on a familiar scent until he is attacked by a man with a mohawk and a black tattoo on his left arm with claws similar to Wolverine's. The two engage in a brief fight until a voice in the distance orders the attacker to stop, Magneto and his Brotherhood of Mutants would then enter the scene. Magneto would then greet the X-Men mockingly and accurately guesses that the X-Men are here to help Wolverine regain his memories, Wolverine asks who the man with the mohawk is and why he has claws like Logan's. The man with the mohawk laughs maniacally and reveals himself to be Wolverine's brother; Sabretooth.
Magneto then notices Quicksilver and asks Quicksilver if it's really him, confused Quicksilver asks what he is talking about. Magneto then asks what his name is to which Quicksilver tells him his name, tears begin streaming down his face, Scarlet Witch becomes confused and asks her father what is wrong to which Magneto reveals, Pietro is his son. Pietro and Wanda are shocked but they also begin crying, Magneto is relieved that he has finally found his son and asks him to join him, Pietro then becomes conflicted and wonders if this is what he should do. The X-Men and Brotherhood plead with Quicksilver to join/stay with their cause, Quicksilver then comes to the decision that he won't abandon his friends and that his father and sister have hurt innocent people and won't be a part of it. Enraged and heartbroken, Magneto orders his Brotherhood to attack the X-Men.
The battle would eventually come to a stalemate after Quicksilver injures Scarlet Witch and Magneto, being a concerned father retreats. The X-Men return to the X-Mansion revealing the news to Xavier. This battle would go on to leave the X-Men shaken and changed after this.
Cable
A month after the encounter with Magneto, the X-Men discover an intruder on Xavier's estate. The X-Men suit up to battle the intruder only to be defeated quickly and easily by him, the intruder then reveals himself to be Cable and that he is here to help. The X-Men then take Cable to Xavier and Xavier confirms that Cable is indeed there to help while also revealing he's from the future and the son of Scott and Jean. Now trusting Cable, Cable then informs Xavier and the X-Men that in the future, Galactus arrives and defeats Earth's superheroes and creates a hellish future. The X-Men then ask how are they supposed to defeat him to which Cable explains that this time the world's superheroes will be prepared for him and that they all had to unite against Galactus
Arrival of Galactus
After Cable's revelation, Professor X contacts Nick Fury of S.H.I.E.L.D. detailing him of what has transpired and Cable's revelation. Nick Fury tells Xavier to send his X-Men to the Triskelion, and also bring the Cable.
When Galactus arrives, Fury sends Quicksilver and the X-Men with the help of the Avengers and Fantastic Four into the field to distract Galactus while Tony Stark, Hank Pym and Reed Richards work on a way to stop him once and for all. When they arrive into the city and start battling Galactus, Hulk, Thor and the Thing are the heaviest hitters and causing the most damage to Galactus until he blasts them with cosmic energy causing Hulk to revert into Banner and Thor and the Thing to be knocked unconscious. Without their heavy hitters the three teams are decimated by Galactus' powers. As Galactus is about to kill the three teams, the Invisible Woman protects them with a psionic shield bubble but is diminishing her strength. Silver Surfer and Cable arrive to help, Cable is quickly knocked out but Silver Surfer gives Galactus a run for his money, realising he can't defeat Galactus alone, Silver Surfer retreats and uses an untapped power the allows him to teleport himself, the other superheroes (including Spider-Man and Daredevil) back to the Triskelion.
Silver Surfer warns Nick Fury that Galactus sees them as a threat now and will be coming for them. Stark, Pym and Richards notify Quicksilver and the other heroes that they have discovered a dimension called the Negative Zone that has no life in it and if they could create a wormhole and find a way to push him inside of it, they can defeat him. Quicksilver then notifies them that if they know how to build it and tell him how to build it, he'll use his superspeed to get it built fast, Stark, Pym, Reed and Banner then begin brain storming on how to create a device that can create wormholes.
Suddenly, Galactus arrives and attacks the Triskelion. Quicksilver and the heroes begin battling Galactus to hold him off while the brains attempt to blueprint a wormhole device. After a long battle the heroes are defeated by Galactus but luckily the brains have come up with a way of creating a portal device, they wake up Quicksilver to build the mission, although Quicksilver will need a distraction, Banner transforms into the Hulk in a berserker rage and begins pounding Galactus. From looking at the blueprints, Quicksilver builds the device and activates it creating a wormhole. Hulk with a limited understanding keeps on punching Galactus in the direction of the wormhole and attempts to push him into it, as Galactus falls into the wormhole he grabs the Hulk and with no way to escape his fate seems to be sealed.
Until Silver Surfer zooms in and tackles Galactus into the wormhole going inside with him. Quicksilver quickly shuts down the device closing the wormhole forever, after successfully averting the dystopian future Cable hails from, he begins fading from existence. As he is fading, Cable thanks Daredevil, Spider-Man, Wolverine, Iceman and Quicksilver for being a family to him when no one else would in the future and he tells Cyclops and Marvel Girl that he loves them and hopes to see them again soon. Jean would be devastated at her son fading from existence, this would also effect Scott as he would comfort her while she is bawling her eyes out, Pietro and the others could only watch as they can't even comprehend on what they're going through..
A few weeks later, Jean would lock herself in her room, scarred over losing her son who she never got to know. Pietro would feel upset for Jean, so he went to New York to help rebuild it alongside the other X-Men to occupy is mind and maybe even build relations with the humans.
Aftermath
In the months following the Galactus Event, the X-Men would go through huge changes. The media would praise the X-Men for helping defeat Galactus, some people have opened up to living alongside mutants, the X-Men received new uniforms and the X-Men would gain new teammates; Nightcrawler, Shadowcat and Beast. Although Scott and Jean were still upset over the loss of Cable, and Wolverine hadn't returned from his leave of absence. Pietro would also begin dating Kitty Pryde in this time.
One day the X-Men were contacted by the new King of Wakanda T'Challa Udaka aka the Black Panther for help against Ulysses Klaue and some mercenaries who had come to Wakanda to steal Vibranium. On the X-Jet to Wakanda, Storm would seem...silent, the others would notice this and Quicksilver would ask her what's wrong which would lead Cyclops to inform Quicksilver that Wakanda is Storm's home and she is worried, although Storm would tell the rest of the team that that wasn't only what she was nervous about, she would then tell the team of her and T'Challa's history before she joined the X-Men and before he became King.
Upon arriving to Wakanda, the X-Men would be greeted with hostility from the natives, even Storm couldn't keep the heat down until T'Challa, in his Black Panther gear, would order his guards off and welcome the X-Men to Wakanda. Black Panther would take them into the city and brief them on Klaw's partners, they were the Juggernaut, the Radioactive Man, Batroc the Leaper and the Black Knight and tell them that he had received intel detailing that Klaw and his mercenaries were planning on attacking the Royal City.
After a day of relaxation, rest and being treated well by the Wakandans. The X-Men were ready to help defend the Royal City from Klaw, when Klaw and his mercenaries arrived the Black Panther would go on to fight Klaw on his own while the X-Men would combat the mercenaries. The X-Men would eventually defeat the mercenaries and save the Royal City, shortly after Black Panther would return with Klaw's unconscious body and thank the X-Men for helping him and declared them friends and allies to Wakanda.
Alternate Future

In an alternate future averted by Cable, Galactus invaded Earth in 2014 and wiped out Earth's superheroes in what would be called the Superhero Massacre, Galactus decided the Earth had potential and instead of devouring it, he made it his permanent base of operations while he ruled it with an iron fist. Pietro and the other heroes who survived went into hiding. Pietro and Bobby went into hiding together and changed their identities and lived regular lives.
12-years-later, the ex-superhero Daredevil would emerge from the shadows and return to fight Galactus' and Silver Surfer's oppression of Earth. This would inspire Pietro and Bobby to return to their superhero identities and combat Galactus and Silver Surfer. Daredevil formed a team with; the Knights. The Knights was compromised of Spider-Man, Wolverine, Quicksilver, Iceman. Daredevil would go on to find Nathan Summers, the son of recently deceased ex-superheroes, Cyclops and Marvel Girl, Daredevil went on to take Nathan in and train him in combat and weapons.
When Nathan turned twenty-one, he joined the Knights. Daredevil and the Knights would go on to bring hope to the oppressed citizens of Earth until one day, Galactus sent the Silver Surfer to "take care" of the Knights. Daredevil sacrificed himself to save the Knights and was killed by the Silver Surfer, before dying he appointed Spider-Man as the Knights new leader.
A few years later, Spider-Man would devise a plan to build a device and use Quicksilver's time travel abilities to power the device to go back in time and warn the heroes of Galactus' impending attack. Coming from a scientific background, Spider-Man built the device and Quicksilver powered it until the Silver Surfer attacked them at their base,with no time left, Spider-Man ordered Wolverine and Iceman to hold him off while he ordered Nathan to go back in time and warn the others.
Silver Surfer would defeat the Knights. Surfer killed the rest of the Knights but left Spider-Man alive, Surfer demanded to know where Nathan had gone but Spider-Man replied with "To end your reign", Silver Surfer would then proceed to kill Spider-Man also. Although after Nathan successfully warned Earth's superheroes in the present and helped them defeat Galactus, this future never came to be.

Powers and Abilities
Powers
Speed Physiology: Pietro's body is adapted towards the rigors of high-speed running. His cardiovascular and respiratory systems are many times more efficient than those of a normal human being. He metabolizes an estimated 95% of the caloric energy content of foodstuffs (normal humans use about 25%). The chemical processes of Quicksilver's musculature are so highly enhanced that his body does not generate fatigue poisons, the normal by-products of locomotion, which force the body to rest. Rather, his body constantly expels waste products during his accelerated respiration through exhalation. His joints are smoother and lubricated more efficiently than those of a normal human being. His tendons have the tensile strength of spring steel. His bones contain unknown materials significantly more durable than calcium to withstand the dynamic shocks of his feet touching the ground at speeds a human could never achieve or withstand. Quicksilver's practical reaction time is several times faster than a normal human's and the speed at which his brain processes information is heightened to a level commensurate with his bodily speed, enabling him to perceive his surroundings while traveling at high velocities. Quicksilver's lachrymose is more viscous than normal, thus preventing rapid evaporation and replenishment of surface fluids on his eyeballs under the influence of high wind velocity to occlude his vision.
Superhuman Speed: He was originally capable of running faster than the speed of sound (770 miles per hour). He had sufficient energy reserves that enabled him to run at this average speed for an unknown amount of hours before reducing his speed to replenish his body's store of energy. Quicksilver has used his powers of acceleration for various feats. He has plucked an arrow out of the air from a standing start, and has dodged machine gun fire. He has created cyclone-like gusts of wind, which are able to knock a man off his feet. He is able to run across the Atlantic Ocean and to oversea continents without having to stop, run up the sides of buildings effortlessly, and also seems able to use some type of energy, comparing it to "his father's power". After being captured by the High Evolutionary, where his powers were upgraded by Isotope E, his running speed was increased until he was capable of easily reaching high supersonic speeds between Mach 4 (3,080 miles per hour) and Mach 5 (3,691, miles per hour) and beyond. The true extent of his amplified abilities are unknown, though he has been observed outrunning Thor's lightning bolts, running from Tibet to Indonesia in a few seconds, and covering half the Earth's distance in 92 seconds. He has ran back and forth in time and created time displaced duplicates (which Stephen Hawking theorized to take speeds of 25,000,000 mph) it can be confirmed Quicksilver has moved at speeds faster than light. No explanation has been given yet for his recent increase in speed. Quicksilver is also immune to the effects of friction, reduced oxygen up to a point where a human can no longer breathe, and impact upon his body while moving at super-speeds. He has traveled around the world by running on top of the ocean water and even ran all the way up Mount Everest without slowing down and went flying above cloud level as a result. He has recently shown the ability to shift his molecules through solid objects, and transport people at speeds greater than the speed of sound without injuring them.
Enhanced Durability: His body is capable of resisting tremendous impact forces that could easily crush and kill a human without suffering any serious external or internal injuries.
Superhuman Reflexes: Pietro's reaction time and reflexes are also superior to that of a human. Because his brain functions at superhuman speeds, everything he perceives, moves slower to him. Even in his earliest appearances he could perform feats of incredibly fast reaction-time, such as dodging a close range optic blast from Cyclops in a combat training match.
Accelerated Metabolism: Pietro's metabolism is more than 15 time that of a normal human being, thus enabling him to heal much faster then normal and have an extended health and longevity.
Superhuman Stamina: Pietro's physiology grants him greater stamina when compared to an ordinary human, allowing him to operate at peak capacity for at least several hours before he begins to grow tired.
Superhuman Agility: His physiology grants him superhuman agility being more flexible and having greater balance.
Superhuman Strength: Quicksilver possesses superhuman strength in his lower body as part of his body's adaptations for running. With his upper body he can lift (press) approximately 1000 pounds while his legs can press approximately 1 ton under optimal conditions.
Molecular Acceleration/Destabilization: Through the course of his life as a mutant, his super speed has granted him numerous abilities. One of the very peculiar ones was being able to vibrate his molecular structure at high speeds. Different writers used it for different purposes that were often absurd or completely ignored it to avoid obscurity. He has demonstrated the full effect which enables him to destabilize atomic matter by accelerating the target object's molecule structure, often causing it to fall apart or explode usually by touching it.

Intangibility: Pietro also can use molecular destabilization to walk through solid objects.
Cable, a time-travelling mutant and future son of Scott Summers and Jean Grey, knew Quicksilver as an adult, and stated that there was a possibility that Quicksilver may be able to break light speed and travel through time when he masters his powers.

Abilities
Quick Intellect: Pietro is able to think at great speeds, contrary to his impulsiveness. Because Quicksilver has a high speed of perception, telepaths often have difficulty using their abilities against him.
Skilled Martial Artist: He has been trained in martial arts and other forms of combat by Captain America making him an excellent fighter.

Strength level
Unknown.

Weaknesses
None known.

Paraphernalia
Equipment: None known.
Transportation: None known.
Weapons: None known.

Notes
Trivia
Pietro was born in in 1998.
Pietro is of Vietnamese, German, American and Romanian descent.
Pietro is twelve minutes younger than Wanda.
In this continuity, Pietro is a firm believer in living among other humans unlike his Earth-616 counterpart.
See Also
Discover and Discuss
Links and References
---
Community content is available under
CC-BY-SA
unless otherwise noted.