Characteristics
Status
Occupation
Former assassin, criminal
Origin
History
Don't worry Uncle Ben, I promise I'll come back a better man.

-- Phil Urich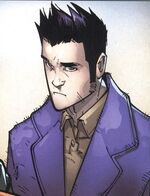 Phil Urich was seduced by crime and went on to join the Goblin Nation; however, he began to regret becoming a criminal after realizing that his his thrill seeking life was enabling the suffering of others. The Goblin gained word the Urich wanted to turn himself he kidnapped Phil's brother, and forced Phil to become one of his enforcers. He aided the Slingers when Osborn sent a group of enforcers to assassinate the vigilantes. He teamed-up with Spider-Man and the two told Phil's uncle, reporter Ben Urich, and told him of his criminal lifestyle and the inner workings of the gang. Then he turned himself into the NYPD and told them what he told his uncle.

Powers and Abilities
Powers
After injecting himself with OZ, Phil gained the following abilities:
Healing Factor
Super Agility
Super Durability
Super Reflexes
Super Smart
Super Speed
Super Stamina
Super Strength

Abilities
None known.

Strength level
Unknown.

Weaknesses
None known.

Paraphernalia
Equipment:
Transportation:
Weapons:
Notes
Trivia
See Also
Discover and Discuss
Links and References
---
Community content is available under
CC-BY-SA
unless otherwise noted.