Base Of Operations
Queens, New York
Characteristics
Status
Occupation
Student, adventurer
Education
Last year of high school
Origin
History

Recent events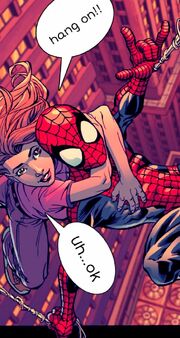 Peter recently stopped a D-list villain who attempted to plant bombs all over the city. Peter was only able to stop 3 of them the final one was located at his school library where Annette Pape, a girl who has feelings for Peter and accidentally saw hi without his mask but nonetheless she wants to be with Peter. The bomb blew half the library luckily, Spidey saved Annette and evacuated the other few students away from the building.
Tenure with the New Warriors
After befriending Nova and Firestar they asked if Spidey was interesting in joining their team. Spidey agreed but only temporary.

Powers and Abilities
Powers
Abilities
None known.

Strength level
Unknown.

Weaknesses
None known.

Paraphernalia
Equipment: None known.
Transportation: None known.
Weapons: None known.

Notes
Trivia
See Also
Discover and Discuss
Links and References
---
Community content is available under
CC-BY-SA
unless otherwise noted.