SEE ALSO: Official MCU Spider-Man

Spidey, Web-head, Webslinger, Wallcrawler, Bombastic Bag-Man, Amazing Spider-Man, Your Friendly Neighborhood Spider-Man
Relatives
Richard Parker (father, deceased); Mary Parker (mother, deceased); Benjamin Parker (uncle, deceased); May Parker (aunt)
Characteristics
Origin
Origin
When high school nerd Peter Parker was bitten by a radioactive spider during a science experiment, he soon found out that he had gained the proportionate powers of an arachnid. With his new found abilities, Parker attempted to cash in on them. In a turn of events following his first wrestling match, Peter soon discovered that with great power comes great responsibility when his uncle died.
History

In the Marvel Cinematic Universe, we first meet 16 year old Peter Parker, aka the Spider-Man, fighting on his own, protecting the streets of New York City, while still making it home for dinner with Aunt May! He is seen fighting several villains such as Chameleon, Mysterio, Vulture, Shocker, Hobgoblin & Rhino. He is constantly seen getting a date with Gwen Stacy, and hanging out with his best friend Harry Osborn. Aunt May constantly has money issue which Peter attempts to handle by working a job at the Daily Bugle, however it is not enough and Peter decides he must find a second, full time job. When Stark Industries needs a new, younger intern, Peter's science teacher, Bruce Banner suggests Peter.
The Avengers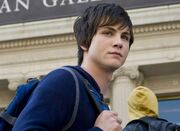 After some research, Nick Fury learned Peter Parker was really Spider-Man! After an attack from ULTRON, Fury was able to re-assemble the Avengers, but he needed more help. After a fight with Shocker, Nick Fury approached Spider-Man. He told him he knew his secret identity, and asked him to join the Avengers. Parker turned down the chance at first, as he had school, money, and other problems to deal with. However Nick Fury informed Peter that ULTRON planned to attack Forest Hills! He also informed Peter that his science teacher, Professor Banner was really the Hulk. He said he kept the Hulk's identity a secret to the public, and only S.H.E.I.L.D. & the Avengers knew. Peter realized he had to join the Avengers, as he lived in Forrest Hills. He had to protect Aunt May. Peter was almost killed in a death battle against ULTRON! ULTRON attempted to get the hack into a S.H.E.I.L.D. reactor powerful enough to destroy humanity, which would give him power to start his own race! Luckily, the Avengers stopped him after Iron Man shut down his computer systems. Peter than reveled to Gwen Stacy that he was Spider-Man.

Powers and Abilities
Powers
None known.

Abilities
None known.

Strength level
Unknown.

Weaknesses
None known.

Paraphernalia
Equipment: None known.
Transportation: None known.
Weapons: None known.

Notes
Trivia
See Also
Discover and Discuss
Links and References
---
Community content is available under
CC-BY-SA
unless otherwise noted.