Spider-Man
[[File: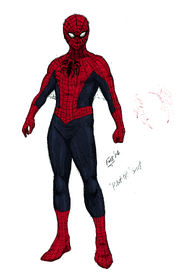 |200px|center|Peter Parker (Earth-1962)]]
The Crime-Fighting-Spider, Web-Head, Spider-Boy, Spiderling, Spidey, Tiger, Iron Spider, The Slinging Avenger, Puny Parker, Smartest Kid Ever Known to Man
Relatives
Richard Parker (father; deceased), Mary Parker (mother; deceased), Ben Parker (uncle, deceased), May Parker (aunt)
Base Of Operations
Forest Hills, Queens, New York City, New York
Characteristics
Unusual Features
Small hairs on his hands and feet that allow him to adhere to walls and most surfaces
Status
Occupation
Photographer at Daily Bugle, intern at Horizon Labs
Education
Midtown High School
First appearance
Amazing Spider-Man Volume 1 issue 1
History

History of character is unknown.

Powers and Abilities
Powers
Spider-Man possesses superhuman strength, speed, stamina, agility, durability, reflexes, recuperative powers, balance, coordination, and sense of equilibrium.
Spider Physiology: Spider-Man possesses the proportionate powers of a spider, granted to him from an genetically-altered, radioactive spider which bit Peter Parker during his attendance of the exhibition. The radioactive, complex mutagenic enzymes in the spider's blood that were transferred at the time of the bite triggered numerous body-wide mutagenic changes within Parker, granting him superhuman strength, speed, toughened flesh, and numerous arachnid-like abilities. That mutation granted him an "enhanced chromosome pattern".
Superhuman Strength
Superhuman Speed
Superhuman Stamina
Superhuman Durability
Superhuman Agility
Superhuman Equilibrium
Superhuman Reflexes
Wall-Crawling
Regenerative Healing Factor
Spider-Sense

Abilities
Indomitable Will
Genius-Level Intellect
Expert Inventor/Engineer
Science Major
Skilled Photographer
Master Acrobat
Master Hand-to-Hand Combatant
Multilingual

Strength level
Unknown.

Weaknesses
Spider-Sense Disruption
Ethyl Chloride

Paraphernalia
Equipment:
Web-Shooters
Utility Belt
Spider-Tracers
Spider-Signal
Spider-Man Suits

Transportation:
Weapons: None known.

Notes
Trivia
See Also
Discover and Discuss
Links and References
---
Community content is available under
CC-BY-SA
unless otherwise noted.