Base Of Operations
Mobile
Characteristics
Bald
, (currently), brown (formerly)
Status
Occupation
Scientist, criminal
Education
Ph.D in various sciences
Origin
First appearance
Last appearance
Ultra: Spider-Man Vol 1 17
Ultra: The New Spider-Man Vol 1 22
History
Early Years
Little is known about his childhood or early life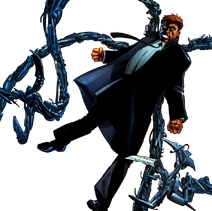 In 2012 in the beginning of the Age of Superheroes, due to a test failure at Oscorp it caused Otto's arms to fuse to his skin and bones (The explosion also made him insane) he then went on a revenge spree killing people he thought was responsible, and when he was about to kill Obadiah Stane, Peter Parker was there to save Obadiah, and Peter and Otto battled, Otto then revealed he knew Spider-Man was Peter Parker because Norman Osborn told him a few months earlier, Peter then defeated Ock and sent him to S.H.I.E.L.D knowing that he was dangerous. Later on in Peter's years as Spider-Man the two were at each other's throats and when Peter defeated him one last time at the age of 25, Peter sent Ock to S.H.I.E.L.D and demanded they wipe his memory of knowing Peter was Spider-Man, they did and Otto Octavius was released from S.H.I.E.L.D and continued his old life as a scientist never bothering Peter again. 2 years later Otto's memories returned and he attacked Peter Parker and Mary Jane Watson (Now married), Peter now sick of Otto for the last time, Peter beat Otto Octavius down so hard that he was no longer able to heal or recover from his wounds. He then swore vengeance on Peter and his family
Later Years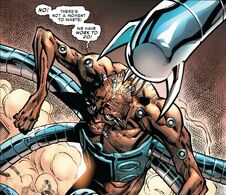 Otto was broken and beaten, Otto was planning his scheme for years and one day he saw Spider-Man on TV and thought it was Peter Parker. Otto then spent a year fighting Sam Parker as Spider-Man thinking it was Peter Parker.
Meeting his younger self
In 2012 Doc Ock planned a scheme to open a portal and bring Old Ock back to the past where they can both kill Peter Parker, but unfortunately Sam tagged along with Old Ock through the portal. After that Young Ock threw Peter and Sam off of the building and then explained to Old Ock why he brought him back to the past, later on Peter and Sam came back and a battle emerged, Peter managed to knock Old Ock out cold and Sam managed to lower Young Ock's defenses causing him to surrender, later on Old Ock was brought back to the future with Sam.
Death
When Sam was 16, Otto had planned a perfect scheme to kill Spider-Man. Later on it was all going accorded to plan but Ock wanted to see Spider-Man's face one last time and unmasked him revealing that it was actually Sam Parker and not Peter Parker, then Sam realized he couldn't let Ock live knowing his identity and that would put his family endanger, Sam then grabbed a pole and impaled Ock with it, leaving him for dead. Ock eventually died of blood loss.

Powers and Abilities
Powers
Ferrokinesis: He had the ability to manipulate metal. He created a new set of arms out of metal scraps and battled both Spider-Man and Spider-Woman before being knocked out. How similar or dissimilar his power is to that of Magneto is still unknown. Octopus could mentally control these mechanical arms, even when they were miles away.

Abilities
Scientific genius.

Strength level
Unknown.

Weaknesses
None known.

Paraphernalia
Equipment: Otto wore special glasses to protect his damaged eyes.
Transportation: He moves around quickly by walking on his four tentacles (although he has been shown to require only two to walk on).
Weapons: With his ability, Octavius could use any metal as a weapon, but he only uses this power to make tentacles.
In his former tentacles, a number of projectile weapons were incorporated into the ends of them, which could also be used as melee weapons.

Notes
Trivia
See Also
Discover and Discuss
Links and References
---
Community content is available under
CC-BY-SA
unless otherwise noted.