Next Spider-Man is an animated film from 2014, animated with 2D technique. It's second movie in Marvel Animated Universe.
Plot
Peter Parker gets into another dimension. He goes to a world where his other version has died. She meets Miles Morales, a teenager with similar abilities. Together, they must fight Wilson Fisk and another evil villains.
Characters
Spider-Man/Peter Parker
Spider-Man/Miles Morales (Earth-1610)
Spider-Man/Peter Parker (Earth-1610)
Norman Osborn/Green Goblin (Earth-1610)
The Prowler/Hobie Brown (Earth-1610)
Mary Jane Watson
Mary Jane Watson (Earth-1610)
May Parker
May Parker (Earth-1610)
Spider-Woman/Gwen Stacy (Earth-1610)
Post Credits Scene
Miles meets Spider-Man 2099.
Gallery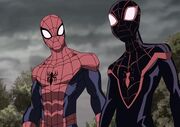 Curiosities
This is the second movie from the Marvel Animated Universe universe created by TamukaTheGhost.
In the center of Brooklyn (Earth-1610), you can see billboards with images of the Avengers.
Miles has X-Men comics in the room.
Community content is available under
CC-BY-SA
unless otherwise noted.