Neutron
[[File: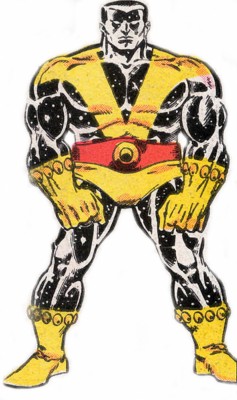 |200px|center|Neutron (Earth-6109.2)]]
Characteristics
Unusual Features
Apparently no visible pupils or irises
Status
Occupation
Imperial Guardsman
Origin
History

Little is known about Neutron's life before Deathbird's coup d'tat against her sister, Lilandra. It can be assumed to be similar to her mainstream counterpart.
Neutron was one of the Imperial Gaurdsmen that aided Deathbird in taking the throne. She was one of the guardsmen to the throne room, partnered with Hussar. Ultimately the two were defeated by the Ultimate Alliance, and were most likely imprisoned after the heroes defeated Deathbird and freed Lilandra.

Powers and Abilities
Powers
Neutron's body houses a quantum singularity ("black hole") whose energy he can manipulate for various effects

Energy Force Bolts
Superhuman Strength
Superhuman Stanima
Superhuman Durability
Energy Absorption
Self-Sustenance
Flight

Abilities
None known.

Strength level
Unknown.

Weaknesses
None known.

Paraphernalia
Equipment: Flight patch, an anti-gravity device permitting him to fly
Transportation: Various Shi'ar starships.
Weapons: None known.

Notes
Trivia
See Also
Discover and Discuss
Links and References
---
Community content is available under
CC-BY-SA
unless otherwise noted.