Characteristics
Status
Occupation
Adventurer, super-soldier, symbiote host, formerly spy.
Origin
Origin
After discovering the Venom symbiote, Natasha used it as a member of the Secret Avengers.
History
Venom's history is exactly the same as that of Earth-616's Natalia Romanova up until the Marvel NEW! relaunch.
While doing a recon mission for the Avengers, Natalia discovered the Venom symbiote had returned. She bonded to the symbiote due to both party's willing consent. After having tests conducted, Rhodes discovered that Natalia's version of the Super-Soldier Serum was numbing Venom's evil intent. She adopted the persona of Venom, and joined the reformed Secret Avengers as the secret weapon.

Powers and Abilities
Powers
Natasha retains the Russian equivalent of the Super-Soldier Serum, granting her peak human physiology, and retarded aging.

Abilities
Natasha is a master of combat, weapons, and acrobatics. She retains her knowledge of spy tactics, is an expert marksman, and has genius-level intellect potential, though she has never exploited it.

Strength level
Unknown.

Weaknesses
None known.

Paraphernalia
Equipment: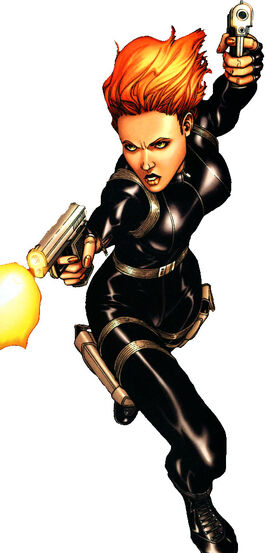 Venom Symbiote: Natasha wields the Venom symbiote, which enables her to perform the following tactics:
Super Strength
Super Durability
Super Stamina
Healing Factor
Adhesion
Webbing Generation
Elasticity/Deformation/Bio Weapons
"Spider-Sense"
Camouflage
Poisonous Fangs
Shape-Shifting
Guns: Venom wields two pistols.
Transportation: None known.
Weapons: None known.

Notes
Trivia
See Also
Discover and Discuss
Links and References
---
Community content is available under
CC-BY-SA
unless otherwise noted.