Moon Knight
[[File: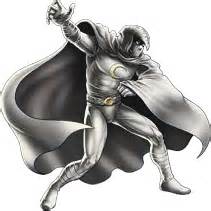 |200px|center|Marc Spector (Earth-6109.2)]]
Jake Lockley, Steven Grant, Yitzak Topol, Fist of Khonshu, Crescent Crusader, "Moony", Crescent Wrench, Lunar Legionnaire, Sheet Face
Ultimate Alliance, Partner of
Ronin
Relatives
Elias Spector (father, deceased);
Unnamed mother (deceased);
Randall Spector (Shadowknight) (brother, deceased);

Seth Phalkon (alleged great-great-grandfather);
Base Of Operations
New York City New York
Characteristics
Unusual Features
Scar over his left eye
Status
Occupation
Adventurer, entrepreneur, vigilante, cab driver; formerly prize winner, spy, soldier, C.I.A. liason
Education
High-school graduate, extensive C.I.A. training, mercenary
Origin
Origin
On a mercenary mission in Egypt, Spector was left for dead. An idol of the Egyptian moon god, Khonshu, saved him, and gave him his moon-based powers.
History

Marc Spector is fanatically loyal to the Egyptian moon god, Khonshu, whom he believes gave him the powers he uses to fight crime as the Moon Knight.
When Doctor Doom formed the Masters of Evil, he joined Nick Fury's new team of super heroes, the Ultimate Alliance.

Powers and Abilities
Powers
Split Personalities

Telepathic Immunity
Adaptive Personality
Pain Resistance
Fear Inducing

Fist of Khonshu

Moon's Might
Astral Vision
Night Vision
Shadow Walk
Enhanced Healing

Abilities
Over the course of his life as a boxer, U.S. Marine, mercenary, and costumed superhero, Marc Spector has become an expert at hand-to-hand combat techniques and various martial arts. He is an Olympic-level athlete and a skilled acrobat and gymnast, and excels as a combat strategist.
Expert Pilot
Skilled Detective
Interrogation Expert
Expert Marksman
Weapons Master
Master Martial Artist

Strength level
Unknown.

Weaknesses
Moon Knight has suffered from mental breakdowns on many occasions. Taskmaster also points out that Moon Knight never makes any effort to evade fatal attacks.

Paraphernalia
Equipment:
Moon Knight Suit

Glider Cloak
Carbonadium Armored Vestment

Transportation: Flying drone, modified limosine, Quinjet
Weapons:
Crescent Darts
Truncheon
Crescent Launcher Pistols
Silver Cestus
Ankh
Other Weapons: Moon Knight also used other weapons such as scarab darts, a ivory boomerang, grappling hook / lariat, bola, san-setsu-kon (three-piece staff), and a truncheon with built-in taser.

Notes
Trivia
Phil LaMarr will reprise his role as Moon Knight.
See Also
Discover and Discuss
Links and References
---
Community content is available under
CC-BY-SA
unless otherwise noted.