Man-Ape
[[File: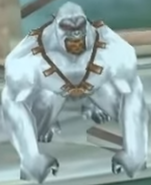 |200px|center|M'Baku (Earth-6109.2)]]
Characteristics
Status
Occupation
Leader of the Jabari tribe, revolutionary
Origin
Origin
Mystically-enhanced human
History

Little is known about the Man-Ape's life before the Fold's attack on Wakanda. It can be assumed to be similar to his mainstream counterpart.
During the Fold's invasion of Wakanda, Man-Ape saw this as an opportunity and led a mercenary group to claim the Panther's Palace stockpile of vibranium. However, he was defeated by the Ultimate Alliance.

Powers and Abilities
Powers
Superhuman Strength
Superhuman Stamina
Superhuman Agility
Superhuman Reflexes
Superhuman Durability

Abilities
Man-Ape is a seasoned warrior and skilled hand to hand combatant. Since gaining his powers, he's become an even more formidable combatant.

Strength level
Unknown.

Weaknesses
None known.

Paraphernalia
Equipment: None known.
Transportation: None known.
Weapons: None known.

Notes
Trivia
See Also
Discover and Discuss
Links and References
---
Community content is available under
CC-BY-SA
unless otherwise noted.