Majestrix Lilandra
[[File: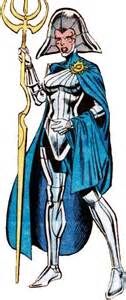 |200px|center|Lilandra Neramani (Earth-6109.2)]]
Relatives
Emperor Neramani (father, deceased);
unnamed mother (deceased);
Cal'syee Neramani (Deathbird) (sister);
D'Ken Neramani (brother, deceased);

unnamed sister (deceased);
Base Of Operations
Imperial Palace, Candilier, Shi'ar Empire
Characteristics
Unusual Features
Feathers instead of hair atop her head; vestigial feathers along her forearms.
Status
Occupation
Empress (Magestrix), occasionally deposed empress, adventurer, pilot
Education
Formally trained at the Chandilar Academy, presumeably royally tutored
Origin
History

Little is known about Lilandra's life before Deathbird's coup d'tat. It can be assumed to be similar to her mainstream counterpart.
Lilandra's throne is taken from her by her sister, Deathbird. The Ultimate Alliance has to prevent the Shi'ar starship from self-destructing by smashing power nodes. In one of the rooms that hold power nodes, Lilandra is seen hooked up to what is described as a "torture chamber". After she is freed, Lilandra tells the heroes that she is forever in their debt.

Powers and Abilities
Powers
Superhuman Strength
Superhuman Stamina
Telepathy

Abilities
Leadership & Political Aptitude
Markswomen
Hand-to-hand Combatant
Aviation

Strength level
Unknown.

Weaknesses
None known.

Paraphernalia
Equipment: Often wore a form-fitting battle armor and carried an energy sword. As Majestrix, Lilandra carried a multi-pronged staff, but it was unclear if this staff was a weapon or purely ornamental.
Transportation: Shi'ar starships, intergalactic-range Stargates; formerly Starjammer
Weapons: Various Shi'ar energy weapons and laser swords.

Notes
Trivia
See Also
Discover and Discuss
Links and References
---
Community content is available under
CC-BY-SA
unless otherwise noted.