Characteristics
Status
Origin
Origin
After his resurrection by the Phoenix, he joined Captain America's Avengers to further Charles Xavier's goals.
History

Nightcrawler's history is exactly the same as that of Earth-616's Nightcrawler up until the Marvel NEW! relaunch.
When the Phoenix Force returned to Earth, it resurrected Nightcrawler to use him as a vessel. He joined the Uncanny Avengers after regaining his psyche. He was briefly abandoned by the Force, but after entering Storm and Thunderbird, and being seen with Colossus of the Future, he regained the Force, possibly permanently.

Powers and Abilities
Powers
Mutant Physiology: Nightcrawler has the same powers as his mainstream counterpart:
Teleportation
Adhesion
Super Agility
Camouflage
Night Vision
Phoenix Force Avatar: Nightcrawler has the same powers as any other avatar of the Phoenix Force.
Telepathy
Telepathic Resistance
Illusion Crafting
Flight
Lightspeed
Self-Sustenance in Space
Cosmic Pyrokinesis
Resurrection
Immortality
Temporal Manipulation
Telekinetic Matter Manipulation

Abilities
Phoenix is a master swordsman, acrobat, and combatant.

Strength level
Unknown.

Weaknesses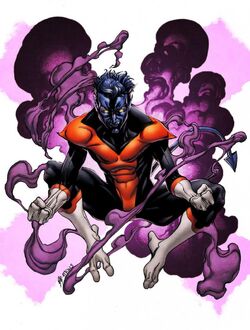 Paraphernalia
Equipment: None known.
Transportation: None known.
Weapons: Nightcrawler wields a pair of swords.

Notes
Trivia
See Also
Discover and Discuss
Links and References
---
Community content is available under
CC-BY-SA
unless otherwise noted.