Kraken
[[File: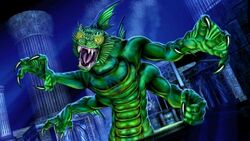 |200px|center|Kraken (Earth-6109.2)]]
Base Of Operations
Atlantean Colosseum
Characteristics
Unusual Features
Four arms, fins, claws, fangs
Origin
Origin
Ancient sea monster
History

Little is known about the Kraken's life before Attuma's takeover of Atlantis. It can be assumed to be similar to its mainstream counterpart.
The Kraken was released by Loki, disguised as the Mandarin, to battle the Ultimate Alliance while he escapes. However, the beast was defeated.

Powers and Abilities
Powers
Aquatic Survival
Superhuman Strength
Superhuman Durability
Ink Spit

Abilities
None known.

Strength level
Unknown.

Weaknesses
None known.

Paraphernalia
Equipment: None known.
Transportation: None known.
Weapons: None known.

Notes
Trivia
See Also
Discover and Discuss
Links and References
---
Community content is available under
CC-BY-SA
unless otherwise noted.