Baron Mordo
[[File: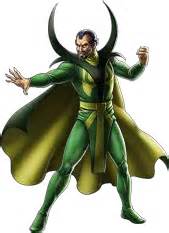 |200px|center|Karl Mordo (Earth-6109.2)]]
Relatives
Viscount Heinrich Krowler (grandfather);
Baroness Sara Mordo (mother);
Baron Nikolai Mordo (father);
Astrid Mordo (daughter);
Lilia (half-sister);

Lilia Calderu (niece)
Characteristics
Status
Education
Studied under the Ancient One
Origin
Origin
Human magician trained by the Ancient One
First appearance
Last appearance
History
Baron Karl Mordo is the evil sorcerer and arch enemy of Dr. Stephen Strange and is one of the big villains in the Masters of Evil. Baron Mordo is usually seen plotting with Enchantress, Loki, Ultron, and Dr. Doom.
First seen plotting after the Ultimate Alliance finish their mission at Mandarin's Palace, Baron Mordo casts a spell causing the Orb of Teleportation to redirect it's course from Castle Doom to Murderworld. Later on, he is seen listening to Loki's want to destroy Thor and Enchantress' complaints about Thor having to die. Next, he is fought on the way to Raven's Peak with Ultron in which both are easily defeated and left for dead.
Whilst stranded in Jotunheim, Ultron & Mordo searched for a way back to Earth. However, both were attacked by Frosts Giants separate from Ymir and Mordo was killed in the ensuing battle.

Powers and Abilities
Powers
Magic Energy Blasts
Force Fields
Astral Projection
Thought-Casting
Teleportation
Opening dimensional gateways
Levitating
Illusions
Hypnotism
Materialization
Necromancy

Abilities
None known.

Strength level
Unknown.

Weaknesses
None known.

Paraphernalia
Equipment: None known.
Transportation: None known.
Weapons: None known.

Notes
Trivia
See Also
Discover and Discuss
Links and References
---
Community content is available under
CC-BY-SA
unless otherwise noted.