Characteristics
Status
Occupation
Adventurer, student, vigilante
Education
High school (not yet graduated)
Origin
History
Early Life
Johnny Storm was the son of scientists Mary and Franklin Storm. While Johnny didn't inherit their genius, his mother frequently attempted to unlock his "hidden genius." In response, Johnny created his rebellious and carefree attitude. He met and became close friends with Mary Jane Watson and Yuri Watanabe.
Lab Work
In ninth grade, Johnny and Mary Jane attended a school field trip to a laboratory. They snuck off as Johnny insisted that the real experiments were behind closed doors, saying "it's how my parents do it." They ran into fellow student Victor von Doom, who urged them to follow him to his father's lab. Victor had them watch from the doorway as his father opened a dimensional breach. A stream of cosmic rays streamed out of the portal.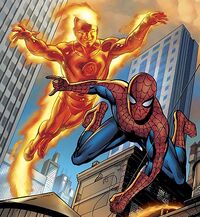 The Human Torch
Days later, the two realized they had gained superpowers; Johnny could burst into flames and fly. Yuri, who witnessed the two's first flight, and MJ created fireproof suits for Johnny to wear. Watanabe convinced the two to help her create the superhero team known as Slingers, with Storm choosing the name Human Torch. Despite initially failing, the team eventually recruited the Masked Marvel, transforming him into Spider-Man.

Powers and Abilities
Powers
After being hit with cosmic radiation, Jonathan gained the following abilities:
Abilities
Martial Arts: Human Torch was tutored in martial arts by the Wraith.

Strength level
Unknown.

Weaknesses
None known.

Paraphernalia
Equipment:
Transportation: None known.
Weapons: None known.

Notes
Trivia
Originally, Hornet was going to be used to both using flying suits and McDonough being an actual member of the Slingers.
In most continuities, Johnny is Susan's younger brother.
See Also
Discover and Discuss
Links and References
---
Community content is available under
CC-BY-SA
unless otherwise noted.