Base Of Operations
Xavier Institute
Characteristics
Status
Occupation
Adventurer, formerly student, playboy, astronaut
Education
High school graduate.
Origin
Origin
Astronaut mutated by exposure to cosmic rays.
History
My name is Johnny Storm, though I've been known as Human Torch and Blaze. I've been a superhero before I was old enough to even know what I wanted to do with my life. I have been taught that I am "exceptional." But the truth is anyone can be a hero. Everyone is exceptional in their own way. This team is full of my friends and family. And as I said, I never expected to be a superhero. But there's nothing else I'd rather be.

-- Human Torch

Early History
Johnny Storm's history is the same as that of his Earth-616 counterpart up until taking the top secret government flight to explore space.
Enhanced DNA
X-Ceptional Change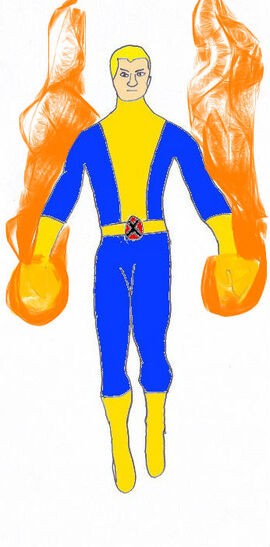 Friends Like No Others
Getting Serious
More coming soon!

Powers and Abilities
Powers
None known.

Abilities
None known.

Strength level
Unknown.

Weaknesses
None known.

Paraphernalia
Equipment: None known.
Transportation: None known.
Weapons: None known.

Notes
Trivia
See Also
Discover and Discuss
Links and References
---
Community content is available under
CC-BY-SA
unless otherwise noted.