History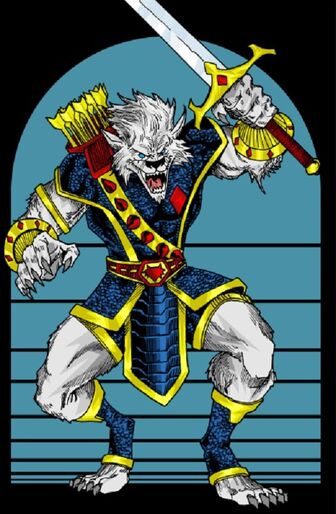 John Jameson's early history is similar to that of
Earth-616 counterpart
, seemingly without his initial Colonel Jupiter phase.
After being transported to the dimension known as "Other Realm", from which the Bloodgem (the source of his power) originated, he learned that the ruby was created by the almighty Stargod to give him a fraction of his powers and make him his champion. Because he retained his human consciousness while in lupine form in the Other Realm, he took up the new mantle of the champion Stargod, and acted as protector of the Realm.
After several years in the Other Realm (which was only equivalent to a few days on Earth), Jameson was allowed by Stargod to return to Earth, fully conserving his powers and the control of his human mind over his lycanthropic form, with the condition that whenever he was called he would return to Other Realm. Retaining complete control (unlike in other realities), Man-Wolf accepted, becoming a superhero using his lupine superpowers to do good. He was able to embrace the feeling of freedom provided by his animal powers, and for him, being the Man-Wolf was never a curse and instead much more of a blessing.
Man-Wolf became a great friend and ally of Spider-Man in his adventures, but unlike him, he was never actually accused of being a "threat" by his father through the Daily Bugle, instead being exalted as a true hero, even though John hid his dual identity from his friends and family to protect them. However, his activities as a superhero in New York City drew the attention of the Avengers, who invited him to join the team. After much reflection, and advice and encouragement from Spider-Man, John ended up accepting, becoming one of the most critical members of the team and remaining with them through the present day.
Powers and Abilities
Powers
Pseudo-Lycanthropy: As Man-Wolf, Jameson displayed the following abilities:
Empathy: On many occasions, John has shown to have incredibly strong empathic powers that enable him to control, manipulate and alter the feelings, sensations, and emotions of others. It is because of him empathic abilities that the almighty Stargod had chosen him as the rightful champion of the Other Realm. His empathic powers allow him to capture emotions and influence them in other beings, being able to provoke fear, anger, sympathy, dislike, disbelief, unshakable faith or any other emotions he desires. He is also able to capture emotions from other beings and determine the emotional state of people and creatures.
Telepathy: John is able to read thoughts, project and broadcast him own thoughts, as well as affect the minds of humans and animals with higher intelligence (such as dolphins, ravens or wolves). The range at which he can perform these feats is greatly increased while he is accessing the powers of Stargod. He can also use his telepathy to deliver explosive telepathic bursts, create mental links between a group of beings, hide thoughts from other telepaths, scan and search for thoughts or an individual psychic pattern several miles away, as well as the following telepathic powers:

Telepathic Defense
Psychic Shield
Telepathic Illusions
Telepathic Manipulation
Mind Control
Mind Possession
Personality Alteration
Mental Paralysis
Mental Amnesia
Astral Projection
Mental Detection
Telekinesis: John can project psychokinetic energy, enabling him to levitate objects, propel or manipulate them however he wishes, lift himself and move through the air to simulate flight, stimulate individual molecules to create heat, generate concussive force as blasts or bursts, and create protective shields. While he has access to the power of Stargod, he is able to manipulate matter and energy on a sub-atomic scale using his telekinesis. He can even change his clothes into a set of street clothes, and lift multiple heavy objects at once without any difficulty.

Force Field: He can create a telekinetic field to either shield him and his teammates or use it to lift multiple heavy objects.
Tactile Telekinesis: He has the power to utilize a personal force field of telekinetic energy.
Matter Transmutation: He can manipulate and transmute matter on a sub-atomic level (e.g., turning wood into metal, rocks into diamonds, and cause physical bodies to disintegrate by altering their molecular structure, among other things).
Superhuman Strength: Man-Wolf possesses superhuman strength. At prime conditions during the three nights of the full moon, he could lift about 75 tons.
Superhuman Speed: Man-Wolf's speed is far beyond human limits, enabling him to sprint at 361.8 km/h.
Superhuman Stamina: Man-Wolf can physically exert himself for approximately two months before tiring.
Superhuman Reflexes: Man-Wolf's reflexes are about seventy times as fast as a normal human.
Superhuman Durability: Man-Wolf's musculature is so durable that he was able to survive great falls and concussive blows with minimal injury.
Regenerative Healing Factor: He is able to fully regenerate from injuries like gunshots, energy bursts, abrasions and cuts made by sharp, piercing or impacting weapons or physical blows suffered from the strongest superhuman beings like the Hulk, and even regenerate lost limbs.
Superhumanly Acute Senses: Man-Wolf possess the senses of a true wolf. He is able to see partially into the infrared range, enabling him to see in the dark. His hearing also enables him to track his quarry across any terrain.
Fangs and Claws: Man-Wolf's claws are hard and sharp enough to rend a variety of substances, such as wood, heavy metals, and even a one inch steel plate.
Self-Sustenance: In his werewolf form, John can survive in harsh environments such as the vacuum of space without air, sleep, food or water. He can also talk normally without using any device.
Full Moon Power: Unlike in other realities, when the full moon is high in the sky, John's powers reach their maximum level and he can perform feats of pure power comparable to those of a demigod like Hercules. He also maintains his personality and control instead of losing control, as werewolves tend to do.
Abilities
John is a skilled pilot, experienced astronaut and has been trained in hand-to-hand combat by the US Air Force.
Strength level
John Jameson possesses the normal human strength of a man his age, height, and weight who engages in intensive regular exercise. As Man-Wolf, his level of strength varied according to the amount of moonlight that filtered through Earth's atmosphere, at prime conditions during the three nights of the full moon, Man-Wolf could lift (press) about 75 tons.
Paraphernalia
Equipment
Unstable Molecule Uniform
Godstone
Weapons
Adamantium Sword
Adamantium Dagger
Longbow with Adamantium Arrows
Notes
Because he is not a true Lycanthrope whose power is derived from a curse, John has no special vulnerability to silver.
The Godstone (the source of Man-Wolf's powers affixed to his throat) is completely indestructible as far as we know. It proved to be totally immune to the power of the Infinity Gauntlet, even when concentrated to destroy it, and even if it was taken off John's person by other means, the gem will teleport back to him. Seemingly, no power in the universe is able to prevent it from returning to its rightful holder.
Community content is available under
CC-BY-SA
unless otherwise noted.