Characteristics
Status
Origin
Origin
Once only a robot pyrokinetic, he was recreated by SHIELD and mass-produced to serve on their Secret Avengers.
History
Vision's history is exactly the same as that of Earth-616's Human Torch up until the Marvel NEW! relaunch.
After destroying the Descendants while a member of the Secret Avengers, Jim's body was discovered burned up and inert by SHIELD. He was re-created, and mass-produced to work with SHIELD. When the Secret Avengers were reformed, one of the Visions was sent to join, with the idea being that he serves as a powerful soldier that can be easily replaced.

Powers and Abilities
Powers
Robotic Physiology: Vision's powers are more similar to his 616 duplicate Vision than his original 616 counterpart, but some powers are quite similar. Due to his new merge of original Human Torch and SHIELD technology, his current power set includes:
Self-Sustenance
Density Shifting
Flight
Invisibility
Fire Blasts
Heat Vision
Super Stamina
Energy Absorption
Ferrokinesis/Healing Factor
Technopathy
Possible Hellfire Control: Jim can manipulate a fire that does not act as normal fire does, causing only psychic pain to victims. Until it is officially classified, it similar to Ghost Rider's hellfire, though not identical, it is classified as hellfire.

Abilities
None known.

Strength level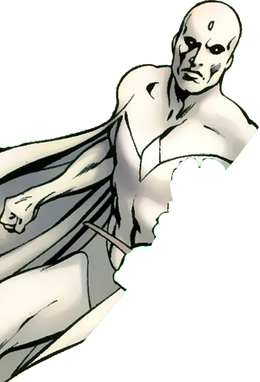 Weaknesses
None known.

Paraphernalia
Equipment: None known.
Transportation: None known.
Weapons: None known.

Notes
Trivia
See Also
Discover and Discuss
Links and References
---
Community content is available under
CC-BY-SA
unless otherwise noted.