Relatives
John Grey (father), Elaine Grey (mother);
Nathan Summers
(future son, erased from existence)
Base Of Operations
Xavier's School For Higher Learning, Westchester
Characteristics
Status
Education
Student at Xavier's School For Higher Learning
Origin
First appearance
Astonishing X-Men #1
History
Early Life
Jean was a normal teenager until her mutant powers manifested and she began hearing voices in her head, which she believed was a sign of her losing her mind. She would also hear the voices in her sleep and would cause her telekinesis to manifest as all the objects in her room would rattle and break.
Approached by Xavier
Because of this, Jean was institutionalized by her parents and would spend a few months there until she was located by Professor Charles Xavier and he offered her a place at his school where she could be safe and learn to control her powers.
After 6 months at Xavier's School For Higher Learning, she would go on to meet new student Scott Summers and would develop a crush on him.
The X-Men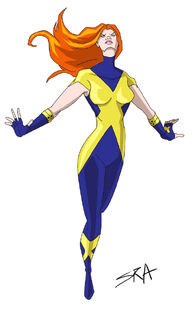 In 2014, after the Mole Man Invasion and Attack of Ultron and the growing threat of Magneto's terrorist attacks, Xavier would form a team of his top students and send them into the field to protect humanity and stop Magneto and would assign Scott as the field leader of the team.
Encounter with Magneto
On a seemingly quiet day at the X-Mansion. The X-Men and other Mutants were enjoying a peaceful day and were involved in bonding activities, like playing baseball and hosting a barbeque. That night, Wolverine would suffer a nightmare that would trigger a memory of the Weapon X project, Logan would go to confide Professor Xavier about this and would ask for help in recovering his memories. Xavier reached inside what was left of Logan's shattered memories, Xavier learned of the Weapon X project located deep in the mountains of Alps.
Xavier ordered the X-Men to accompany Logan on his journey in the X-Jet. Upon arriving at the abandoned Weapon X facility and entering its interior, Iceman would comment that this description seems familiar to a conspiracy theory on a S.H.I.E.L.D. base, Cyclops would then go on to comment if S.H.I.E.L.D. did this to him. Wolverine would then suffer a flashback of Vibranium being laced to his bones and notices a Hydra symbol on one of the scientists. Wolverine then confirms Hydra may have had something to do with this as well.
Suddenly Wolverine would smell others in the facility, with Jean Grey confirming that she can hear the chatter of other minds. Wolverine then comments on a familiar scent until he is attacked by a man with a mohawk and a black tattoo on his left arm with claws similar to Wolverine's. The two engage in a brief fight until a voice in the distance orders the attacker to stop, Magneto and his Brotherhood of Mutants would then enter the scene. Magneto would then greet the X-Men mockingly and accurately guesses that the X-Men are here to help Wolverine regain his memories, Wolverine asks who the man with the mohawk is and why he has claws like Logan's. The man with the mohawk laughs maniacally and reveals himself to be Wolverine's brother; Sabretooth.
Magneto then notices Quicksilver and asks Quicksilver if it's really him, confused Quicksilver asks what he is talking about. Magneto then asks what his name is to which Quicksilver tells him his name, tears begin streaming down his face, Scarlet Witch becomes confused and asks her father what is wrong to which Magneto reveals, Pietro is his son. Pietro and Wanda are shocked but they also begin crying, Magneto is relieved that he has finally found his son and asks him to join him, Pietro then becomes conflicted and wonders if this is what he should do. The X-Men and Brotherhood plead with Quicksilver to join/stay with their cause, Quicksilver then comes to the decision that he won't abandon his friends and that his father and sister have hurt innocent people and won't be a part of it. Enraged and heartbroken, Magneto orders his Brotherhood to attack the X-Men.
The battle would eventually come to a stalemate after Quicksilver injures Scarlet Witch and Magneto, being a concerned father retreats. The X-Men return to the X-Mansion revealing the news to Xavier. This battle would go on to leave the X-Men shaken and changed after this.
Cable
A month after the encounter with Magneto, the X-Men discover an intruder on Xavier's estate. The X-Men suit up to battle the intruder only to be defeated quickly and easily by him, the intruder then reveals himself to be Cable and that he is here to help. The X-Men then take Cable to Xavier and Xavier confirms that Cable is indeed there to help while also revealing he's from the future and the son of Scott and Jean. Now trusting Cable, Cable then informs Xavier and the X-Men that in the future, Galactus arrives and defeats Earth's superheroes and creates a hellish future. The X-Men then ask how are they supposed to defeat him to which Cable explains that this time the world's superheroes will be prepared for him and that they all had to unite against Galactus.
Arrival of Galactus
After Cable's revelation, Professor X contacts Nick Fury of S.H.I.E.L.D. detailing him of what has transpired and Cable's revelation. Nick Fury tells Xavier to send his X-Men to the Triskelion, and also bring the Cable.
When Galactus arrives, Fury sends Marvel Girl and the X-Men with the help of the Avengers and Fantastic Four into the field to distract Galactus while Tony Stark, Hank Pym and Reed Richards work on a way to stop him once and for all. When they arrive into the city and start battling Galactus, Hulk, Thor and the Thing are the heaviest hitters and causing the most damage to Galactus until he blasts them with cosmic energy causing Hulk to revert into Banner and Thor and the Thing to be knocked unconscious. Without their heavy hitters the three teams are decimated by Galactus' powers. As Galactus is about to kill the three teams, the Invisible Woman protects them with a psionic shield bubble but is diminishing her strength. Silver Surfer and Cable arrive to help, Cable is quickly knocked out but Silver Surfer gives Galactus a run for his money, realising he can't defeat Galactus alone, Silver Surfer retreats and uses an untapped power the allows him to teleport himself, the other superheroes (including Spider-Man and Daredevil) back to the Triskelion.
Silver Surfer warns Nick Fury that Galactus sees them as a threat now and will be coming for them. Stark, Pym and Richards notify Marvel Girl and the other heroes that they have discovered a dimension called the Negative Zone that has no life in it and if they could create a wormhole and find a way to push him inside of it, they can defeat him. Quicksilver then notifies them that if they know how to build it and tell him how to build it, he'll use his superspeed to get it built fast, Stark, Pym, Reed and Banner then begin brain storming on how to create a device that can create wormholes.
Suddenly, Galactus arrives and attacks the Triskelion. Marvel Girl and the heroes begin battling Galactus to hold him off while the brains attempt to blueprint a wormhole device. After a long battle the heroes are defeated by Galactus but luckily the brains have come up with a way of creating a portal device, they wake up Quicksilver to build the mission, although Quicksilver will need a distraction, Banner transforms into the Hulk in a berserker rage and begins pounding Galactus. From looking at the blueprints, Quicksilver builds the device and activates it creating a wormhole. Hulk with a limited understanding keeps on punching Galactus in the direction of the wormhole and attempts to push him into it, as Galactus falls into the wormhole he grabs the Hulk and with no way to escape his fate seems to be sealed.
Until Silver Surfer zooms in and tackles Galactus into the wormhole going inside with him. Quicksilver quickly shuts down the device closing the wormhole forever, after successfully averting the dystopian future Cable hails from, he begins fading from existence. As he is fading, Cable thanks Daredevil, Spider-Man, Wolverine, Iceman and Quicksilver for being a family to him when no one else would in the future and he tells Marvel Girl and Cyclops that he loves them and hopes to see them again soon. Jean would be devastated at her son fading from existence, this would also effect Scott as he would comfort her while she is bawling her eyes out.
A few weeks later, Jean would lock herself in her room, scarred over losing her son who she never got to know. She wanted to be comforted by Scott but felt he would want his space.
Aftermath
In the months following the Galactus Event, the X-Men would go through huge changes. The media would praise the X-Men for helping defeat Galactus, some people have opened up to living alongside mutants, the X-Men received new uniforms and the X-Men would gain new teammates; Nightcrawler, Shadowcat and Beast. Although Scott and Jean were still upset over the loss of Cable, and Wolverine hadn't returned from his leave of absence. Jean and Scott would also enter a relationship.
One day the X-Men were contacted by the new King of Wakanda T'Challa Udaka aka the Black Panther for help against Ulysses Klaue and some mercenaries who had come to Wakanda to steal Vibranium. On the X-Jet to Wakanda, Storm would seem...silent, the others would notice this and Quicksilver would ask her what's wrong which would lead Cyclops to inform Quicksilver that Wakanda is Storm's home and she is worried, although Storm would tell the rest of the team that that wasn't only what she was nervous about, she would then tell the team of her and T'Challa's history before she joined the X-Men and before he became King.
Upon arriving to Wakanda, the X-Men would be greeted with hostility from the natives, even Storm couldn't keep the heat down until T'Challa, in his Black Panther gear, would order his guards off and welcome the X-Men to Wakanda. Black Panther would take them into the city and brief them on Klaw's partners, they were the Juggernaut, the Radioactive Man, Batroc the Leaper and the Black Knight and tell them that he had received intel detailing that Klaw and his mercenaries were planning on attacking the Royal City.
After a day of relaxation, rest and being treated well by the Wakandans. The X-Men were ready to help defend the Royal City from Klaw, when Klaw and his mercenaries arrived the Black Panther would go on to fight Klaw on his own while the X-Men would combat the mercenaries. The X-Men would eventually defeat the mercenaries and save the Royal City, shortly after Black Panther would return with Klaw's unconscious body and thank the X-Men for helping him and declared them friends and allies to Wakanda.

Powers and Abilities
Powers
Jean possesses dual psionic potential that grants her powerful empathy, telepathy and telekinesis. Her telepathic abilities allow her to sense, broadcast and detect thought patterns, alter the physical or mental perceptions of others, and manipulate the functions of the human body while her telekinetic abilities allow her to telekinetically levitate herself or other objects, propel and control them however she wishes, and generate concussive bursts and protective shields of telekinetic energy.
Jean's psionic abilities have strengthened tremendously since her original encounter with what she considers to be the fictitious Phoenix God. Also since that time, her powers have grown erratic, and she is often unable to control the immense strength of her power. As the Phoenix Force, she is capable of producing inexhaustible flames and is able to manipulate and control both space and time, such as reversing things to certain points in time.
Telepathy: Jean is able to read thoughts, project and broadcast her own thoughts, as well as affect the minds of humans and animals with higher order intelligence (such as dolphins, ravens or dogs). The range at which she can perform these feats is greatly increased while she is accessing the Phoenix Force.

Telepathic Defense: She can manifest her telepathy in a number of defensive ways.
Telepathic Cloak: She can mask her presence and the use of her abilities from being detected by other psions and psychic entities. She can extend these defenses to others around her as well. Cloaking via telepathy is not perfect and powerful psis may notice and 'see' through this ability.
Cloak Mind: Ability to rearrange the "mental engrams" of mutants so their distinctive mutant thought patterns cannot be detected by Cerebro-type devises or by other telepaths.
Psychic Shield: Ability to erect a psychic shield for protection of herself and of others minds.
Telepathic Illusions: She can create realistic telepathic illusions and cause people to experience events which are not actually occurring.
Telepathic Camouflage: She can alter the apparent physical appearance of herself and other people by altering the perceptions of those around her. This can go so far as to make other people believe that the camouflaged people are not there (invisible). A limit, if one exists, is only imposed by the number of people she is trying to fool, not the number of people she is camouflaging.
Telepathic Manipulation: She can manipulate other people's minds easily, achieving a variety of effects.
Mind Control: She can control the thoughts and actions of others.
Mental Amnesia: She can erase any awareness of particular memories or cause total amnesia.
Heal Trauma: The ability to erase a person's memories and to heal mental trauma through "psychic surgery," the power to stimulate or deaden the pain and pleasure centers in a persons brain.
Mental Sedating: Can telepathically "sedate" her victims so that, if already rendered unconscious, they remain so for as long as she continues to "sedate" them.
Mind Link: Ability to develop a mental link with any person which remains as a connection to that individual.
Psychic Blast: She can project psychic force bolts which have no physical effects but which can affect a victim's mind so as to cause the victim pain or unconsciousness and turning someone brain-dead.

Telekinesis: Projection of psychokinetic energy enables her to levitate objects, propel or manipulate them however she wishes, lift herself and move through the air to simulate flight, stimulate individual molecules to create heat, generate concussive force as blasts or bursts, and create protective shields.

Abilities
None known.

Strength level
Jean possesses the normal human strength of a woman of her age, height and build who engages in moderate regular exercise.

Weaknesses
None known.

Paraphernalia
Equipment: None known.
Transportation: None known.
Weapons: None known.

Notes
Trivia
See Also
Discover and Discuss
Links and References
---
Community content is available under
CC-BY-SA
unless otherwise noted.