This article, James Logan (Earth-1420), is property of Kid Marvelette.

Base Of Operations
Stark Tower
Characteristics
Status
Occupation
Avenger, assassin
Origin
First appearance
The Mighty Avengers #1
History
James Logan was one of the first mutants ever to evolve. Born in Canada in the mid-1700's, his mutation stopped him from aging. After losing countless loved ones, James fell into a deep depression and became an alcoholic, making him an easy target to be captured and recruited by the Weapon X Program. Enduring months of torture and experimentation, James became a living weapon with Adamantium bonded to his bones and claws. However, he was able to escape from the Weapon X Program before his memory could be completely erased. Wandering the world with a jumbled mess in his brain, he eventually found his way to Japan where he began training with the Hand, only to adopt the mantle of Ronin and betray them, hunting down and killing as many as he could.
When S.H.I.E.L.D. formed the Avengers Initiative, Ronin was asked to join by Nick Fury, but initially declined. He changed his mind when Fury offered to help him find answers on his past, and potentially develop a way to end his life. When the Avengers left S.H.I.E.L.D. to work for Tony Stark, Ronin agreed to go with them, figuring if he couldn't end his life, he may as well spend it helping people.

Powers and Abilities
Powers
Abilities
Hand to Hand Combat
Swordsmanship
Stealth

Strength level
Above Peak-human Strength

Weaknesses
Paraphernalia
Equipment: None known.
Transportation:
Weapons:
Notes
Trivia
Ronin simply believes himself to be a freak of nature, unaware that he is truly a mutant.
He prefers to use a sword when he kills as opposed to his claws, because it feels less personal.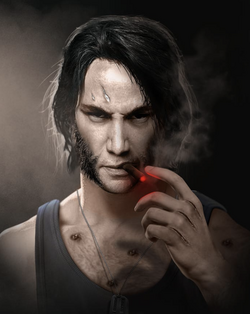 See Also
Discover and Discuss
Links and References
---
Community content is available under
CC-BY-SA
unless otherwise noted.