This article, James Banner (Earth-29876433), is property of PengyChat3.
James Banner
is the Hulk in a parallel universe. The Blue Hulk, or Bulk, has joined the Earth-29876433 Avengers along with Spider-Man (Joseph Parker), Armor Man (Parallel Iron Man, Peter Stark) American Soldier (Parallel Captain America, Billy Rogers), and Falcon (Kate Wilson). James's Enemies include The Abominable Snow-Man, The Lizard, and The Brain (Parallel The Leader). James transforms into Hulk whenever he gets Angry, Frustrated, Scared, or Offended.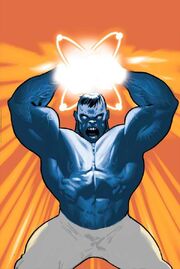 History
James was an ordinary man until a chemical reaction of gamma radiation. James was bathed in gamma radiation. All of his beakers spilled, Most of them blue. James Banner turned into the Blue Hulk, and decided to fight crime. Unlike Bruce Banner, James could be calm while being Bulk. James's trusted sidekick is Jonah Jones (Parallel Rick Jones).
Powers
Bulk can absorb light and he is extra strong.
Community content is available under
CC-BY-SA
unless otherwise noted.