Relatives
Gary Sloxing (Father/deceased), Ami Sloxing (Mother/deceased), Evan Sloxing/(Brother)
Base Of Operations
The Hero Hood, Queens, New York City, NY
Characteristics
Status
Occupation
Adventurer, former poker tournament champion
Education
Tutored by the Red Raptor
Origin
Origin
Born in a hospital in Dover, Deleware
History
Jack Sloxing's background had a sad beginning that Jack tried to keep to himself for years.
In 1919, months after the first world war, Jack's father married Ami Sinclair, but a few months later Gary was sent on a top secret mission and was never seen again. Ami found out afterwords that her husband was missing and she immediately decided to move to America where she can raise her children in a peaceful and free nation. Jack was born as a mutant on March 17th 1920 and his brother Evan was born a little over a decade later also as a mutant to Ami Sloxing in a hospital in Dover, Delaware, but she died minutes after she gave birth to him. Jack never knew his brother Evan because he was adopted by a middle-aged couple who then took Jack and raised him till he was in his youth. Jack was 12 years old when he trained at the mutant academy. Jack trained at the academy for 13 years, and he eventually passed the trials with no trouble, he also was given the nickname "Lucky Jack", not because of surviving the dangerous obstacles during his training, but because he survived the test of controlling his mental powers against the academy's special mind training equipment used to train mutants like Jack Sloxing. Jack then used the name Jack to change his name to Jack of Spades. Jack also redesigned his suit to his fitting and likeness.
Life in the Super Squad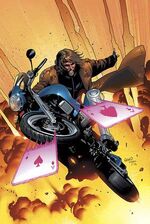 In 1963, Jack of Spades was invited by Maximum Man to join the Super Squad. They said that they wanted Jack to join their cause. Jack accepted the job and had playing cards manufactured as all ace of spades because he always knows that he has all of the luck, and he had them made as one suit because it would become his trademark. Jack always loved to ride his motorcycle but never got to take it on missions until now. Jack started arming himself to the teeth, metaphorically speaking, grabbing handfuls of cash that he had saved ever since he started going to the mutant academy, and most importantly, he was given a layout to the fortress of Doctor Devastation which was jotted down on a big sheet of paper years before Jack joined the Super Squad. Jack knew that if he could not make it to Doctor Devastation's lair, then he would have to hightail out of the fortress and wait until the time was right when the Super Squad will attack, or when the Maximums take control of the operation to defeat Doctor Devastation and his mutant minions. Jack later joined the Maximums because of the fact that he enjoyed serving under Maximum Man.

Powers and Abilities
Powers
Jack of Spades possesses no known superhuman powers, although he possesses a nearly superhuman will-power rivaling the Red Raptor's.

Abilities
None known.

Strength level
Unknown.

Weaknesses
Unknown

Paraphernalia
Equipment: Staff with Black Spade head (which is different than his metal staff)
Transportation: Motorcycle
Weapons: mainly a special deck of cards with his trademark, and a metal staff(used more than his Spade headed staff)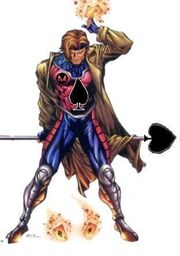 Notes
For more pictures of Jack of Spades, click on Gallery.

Trivia
Jack Sloxing's parents were Scottish, his mother later became an American citizen.
See Also
Discover and Discuss
Links and References
None at the moment

---
Community content is available under
CC-BY-SA
unless otherwise noted.