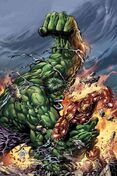 Ezekiel Hasden "Zeke" Stark is the son of the late Tony Stark and the current Iron Man.
Early Life
At some point in time, Tony Stark and Black Widow conceived a child. The child, born Ezekiel Hasden, was put in an orphanage due due his mother's illicit activities. This orphanage was the same one that Scott Summers lived in as a child, and he and Zeke soon became friends. After this, not much is known about Zeke's history... until the day Zeke met the Avengers.
Avengers, Wanda, and the Iron Spider
On a mission to capture the rogue Luke Cage, Iron Man met Zeke hiding in Stark Enterprises. Zeke had stolen Spider-Man's old "Iron Spider" armor. Unaware that Zeke was his son, Iron Man offered Zeke a position in the Avengers as the Iron Spider. Zeke accepted. As an Avenger, Zeke met Scarlet Witch. They fell in love, and married soon after.
Jane Howlett
On a mission with the Avengers, Zeke met X-23, who at the time was with the New Mutants. Zeke met with her after the mission and offered to take her in. X-23 accepted, and Zeke renamed her Jane Howlett, a slight tweaking of Wolverine's real name, James Howlett.