Hussar
[[File: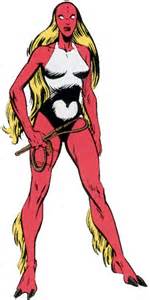 |200px|center|Hussar (Earth-6109.2)]]
Characteristics
Unusual Features
Two-claws on each foot
Status
Occupation
Imperial Guardswoman
Origin
History

Little is known about Hussar's life before Deathbird's coup d'tat against her sister, Lilandra. It can be assumed to be similar to her mainstream counterpart.
Hussar was one of the Imperial Gaurdsmen that aided Deathbird in taking the throne. She was one of the guardsmen to the throne room, partnered with Neutron. Ultimately the two were defeated by the Ultimate Alliance, and were most likely imprisoned after the heroes defeated Deathbird and freed Lilandra.

Powers and Abilities
Powers
Channeling of bioelectricity into other living beings to shock their nervous system and paralyze their motor functions.

Abilities
Excellent hand-to-hand combatant

Strength level
Unknown.

Weaknesses
None known.

Paraphernalia
Equipment: None known.
Transportation: Various Shi'ar starships.
Weapons: Her neuro-whip somehow affects the nervous systems of the people she hits with it.

Notes
Trivia
See Also
Discover and Discuss
Links and References
---
Community content is available under
CC-BY-SA
unless otherwise noted.