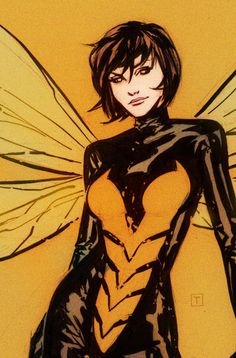 Real Name: Hope Pym
Current Alias: Wasp
Hair: Black
Eyes: Brown
Relatives: Henry Pym (Father), Janet Van Dyne (Mother)
Universe: Earth-21
Bio
Volume One
avengers Assemble
Relations
Powers/Abilities
Pym Particles: battle suit with built in Pym Particle generator, causing her to be able to shrink down to about an inch, or grow as tall as a skyscraper, though the exact measurements are always random due to the unstable nature of the particles.
Stingers: Electrical impulse blasters that fire electrical shocks. Later upgraded with Stark arc technology.
Community content is available under
CC-BY-SA
unless otherwise noted.