Characteristics
Status
Occupation
Vigilante, Student, Scientist
Origin
History
The Other Spider and I are the true successors to the Original Spider-Man, You are nothing but a fake!

-- Spider-Man (Hiro Takachiho)

Hiro was born a child prodigy whose talents were first seen at the age of ten. Hiro also possessed an admiration of Spider-Man and wished to one day be like him. Hiro's talents would also set up a successful future for him. One of Hiro's dreams was to represent Spider-Man or become his successor.
Brother of Shadows arc
Hiro had began to get anxious about the new enemy who would be invading Neo-Japan. As Hiro's anxiety grew, he began to do some investigation on the new enemy in order to have the proper amount of prep to fight this enemy. Hiro soon confronted the Brother of Shadows. The brother said his goal was to kill Spider-man. Hiro began his attack, however, his webbing was neutralized by The Brother's advanced technology. Hiro switched his suit to stealth mode in order to plan a new tactic. Hiro decided to remain in stealth mode and switch to his taser webbing. Unfortunately, the Brother's suit was immune to electricity. Just as the Brother prepared for his next move, Luchador Spider came to Hiro's aid. Lucha Spider knocked the Brother off his feet. The Brother decided to retreat in order to repair his damaged battle suit. As the brother left, Hiro and Lucha-Spider needed to make future plans. Hiro decided to use his prototype spider exoskeleton to fight the Brother of Shadows.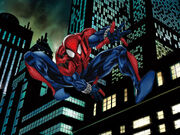 Relationships
Love Interests
Ms. Marvel: The two have recently partnered up with each other to fight crime. They both even took down a Yakuza gang together. Hiro secretly harbors a crush on her.
Allies
Lucha-Spider: One of Hiro's best friends. Victor is the Spider-Man of Mexico.
Rogues Gallery
Silver Sable: Even thought they are occasional lovers, Hanae is sometimes contracted to kill Hiro due to her status as a mercanary. Hanae is reluctant about killing her lover to the point she is willing to turn on her contract.
The Flawless Spider-Man: Stan Kane's only goal is to become the only Spider-man no matter what it takes. Stan is even willing to go as far as to place innocent bystanders in danger in order to accomplish his goal.

Powers and Abilities
Powers
Superhero Feats
Hiro immobilized a giant robot that was attacking Japan.
Hiro saved his city from corruption of the Yakuza.

Abilities
Accelerated Development : Hiro can adapt and observe in order to learn at a much faster rate than any normal human.

Strength level
Hiro's Spider Exoskeleton increases his physical strength 10 times higher.

Weaknesses
None known.

Paraphernalia
Equipment: Spider Exoskeleton: Hiro's recent Spider-suit includes:
Immune to cold and hot weather
Immune to tasers or any other stun device
In-mask communicator with his personal computer
Former Equipment: Hiro's Battlesuit
Transportation: None known.
Weapons: None known.

Notes
Trivia
See Also
Discover and Discuss
Links and References
---
Community content is available under
CC-BY-SA
unless otherwise noted.