Relatives
Brad Pym (father),
Doris Pym (mother),
Maria Trovaya (1st wife, deceased),
Janet van Dyne
(ex-wife),
Ultron
(creation, son),
Vision
("grandson"),
Speed
(reincarnation of great-grandson),
Wiccan
(reincarnation of great-grandson)
Base Of Operations
Conquerors Mansion (formerly Avengers Mansion)
Characteristics
Status
Occupation
World conqueror, criminal mastermind, formerly adventurer, biochemist
Origin
Origin
After leading a similar life to his primary counterpart, Hank went insane and made plans to take over the world, shaping reality into an age of Ultron: his age.
History
You want to know why all of this happened? You really want to know?! Fine! You were a criminal, an archer, when you joined us! You were nothing! Cap was a legend! You thought you were better than him, and now you're trying to BE him!!! The Avengers were becoming a class of assholes. So you want to know why it happened? That's right, Clint Barton. It's all because of YOU. This world that you so ignorantly call Hell... it's all your doing.

-- Hank Pym

Fall of Pym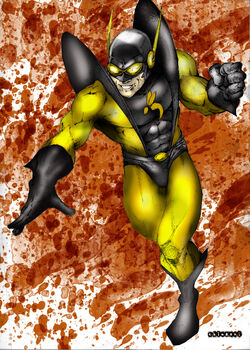 Downward Spiral
His Age
Enemies of my Enemies
Coming soon!

Powers and Abilities
Powers
None known.

Abilities
None known.

Strength level
Unknown.

Weaknesses
None known.

Paraphernalia
Equipment: None known.
Transportation: None known.
Weapons: None known.

Notes
Trivia
See Also
Discover and Discuss
Links and References
---
Community content is available under
CC-BY-SA
unless otherwise noted.