Relatives
Parents (deceased)
Base Of Operations
Stark Tower
Characteristics
Status
Occupation
Avenger, scientist
Education
S.H.I.E.L.D. Academy
Origin
First appearance
The Mighty Avengers #1
History
Hank Pym is a S.H.I.E.L.D. Academy graduate who spent years studying how to shrink and grow items by manipulating their molecular structure. His eventual success led to S.H.I.E.L.D. bringing him in as a field agent dubbed "Ant-Man". He was later paired with Jonathan van Dyne, who had managed to replicate Pym's tech and turned himself into Yellowjacket. Although initially the pair did not get along, they eventually fell in love and began working together as a well oiled machine.
When S.H.I.E.L.D. formed the Avengers Initiative, Ant-Man and Yellowjacket were initially left off the roster, due to S.H.I.E.L.D. wanting to keep them a secret. However, after constant pressuring from Jonathan, Nick Fury relented and recruited them with the fake backstory that they had been working in their own private startup in California. After S.H.I.E.L.D. was revealed to be a front for Hydra, Ant-Man and Yellowjacket joined the Avengers in leaving S.H.I.E.L.D. to work for Tony Stark.

Powers and Abilities
Powers
Abilities
Strength level
Proportionate Human Strength at Microscopic Level
Super Strength in Giant Form

Weaknesses
None known.

Paraphernalia
Equipment:
Transportation:
Weapons:
Notes
Trivia
Despite his ego not letting him admit it, Hank is only the second smartest Avenger on the team, following the Thing. Jonathan isn't the competitive type.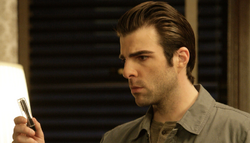 See Also
Discover and Discuss
Links and References
---
Community content is available under
CC-BY-SA
unless otherwise noted.