Relatives
Mr. Grant (father), Janani Grant (mother)
Base Of Operations
Avengers Mansion, New York City, NY, USA
Characteristics
Unusual Features
Tigress has the vertically-slit pupils of a feline, as well as claws and a tail. She is also covered with tiger-striped fur. She has black hair in humanoid form, and she has tiger-striped hair in cat form.
Status
Occupation
Adventurer, Actress
History
Early Life
Greeshma Grant was one of Bollywood's most popular actresses. She made the crossover into the American film industry at a relatively young age. Greeshma met Patricia "Trish" Walker in Hollywood and occasionally worked with her on some projects. The two grew to become great friends, even though they had a rough start to their friendship. Trish would eventually confide in Greeshma of her mother's abuse of her. After this, Greeshma convinced and helped Trish become emancipated and Trish moved in with Greeshma's family. They became like sisters. Greeshma, later on in her career, would go on to costar alongside Simon Williams in several films. The two became romantically linked.

Powers and Abilities
Powers
Ailuranthropy:

Superhuman Strength:
Superhuman Speed:
Superhuman Stamina:
Superhuman Endurance:
Superhuman Durability:
Superhuman Agility:
Superhuman Reflexes:
Superhuman Metabolism:
Superhuman Senses:
Claws:
Fangs:
Superhuman Leaping:
Prehensile Tail:
Regenerative Healing Factor:
Feline Communication and Control: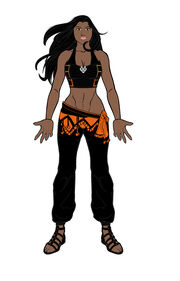 Abilities
None known.

Strength level
Unknown.

Weaknesses
None known.

Paraphernalia
Equipment: None known.
Transportation: None known.
Weapons: None known.

Notes
Trivia
See Also
Discover and Discuss
Links and References
---
Community content is available under
CC-BY-SA
unless otherwise noted.